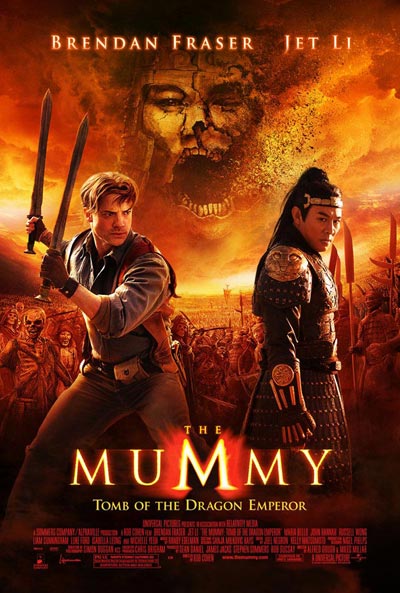 Today we have the latest poster for "
The Mummy: Tomb of the Dragon Emperor
," featuring a shot of
Brendan Fraser
and
Jet Li
. Directed by
Rob Cohen
, the anticipated film stars Brendan Fraser, Jet Li,
Maria Bello, John Hannah, Michelle Yeoh, Anthony Wong, Luke Ford
and
Isabella Leong
.The blockbuster global "Mummy" franchise takes a spellbinding turn as the action shifts to Asia for the next chapter in the adventure series. Fraser returns as explorer Rick O'Connell to combat the resurrected Han Emperor (Li) in an epic that races from the catacombs of ancient China to the neon-lit streets of post-war Shanghai and high into the spectacular Himalayas. Rick is joined in this all-new adventure by son Alex (Ford), wife Evelyn (Bello) and her brother, Jonathan (Hannah). And this time, the O'Connells must stop a mummy awoken from a 2,000-year-old curse who threatens to plunge the world into his merciless, unending service. "The Mummy 3" is scheduled to hit theaters on August 1st.