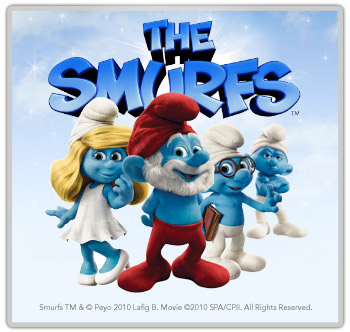 A new promo image for
The Smurfs
, directed by
Raja Gosnell
from the script by J
. David Stem, David N. Weiss, Jay Scherick
and
David Ronn
, has been released. It gives you a first look at Smurfette and Brainy Smurf and also features the previously-revealed Papa Smurf and Grumpy Smurf. And this is all part of an FAO Shwarz Contest where the winner will get 4 VIP tickets to the premiere. You'll get to walk the blue carpet, plus hotel and airfare are included as well.
The Smurfs synopsis
goes like this: "The movie will follow the diminutive blue people as they flee from their village after Gargamel locates it. They slip away through a magical portal and land smack in the middle of New York City's Central Park. With Gargamel close behind, the Smurfs must find a way home before the wizard catches up with them." And yes, you already know that some interesting (and pretty big) cast is involved in the whole project that includes
Jonathan Winters
as Papa Smurf,
George Lopez
as Grouchy Smurf,
Katy Perry
as Smurfette,
Alan Cumming
is Gutsy Smurf,
Fred Armisen
will voice Brainy Smurf.
Anton Yelchin
will play Clumsy Smurf,
Paul Rubens
will voice Jokey Smurf,
John Oliver
– Vanity Smurf,
Kenan Thompson
will be Greedy Smurf,
B.J.Novak
will voice Baker Smurf, while
Jeff Foxworthy
will be Handy Smurf. And when it comes to live action cast, we'll have a chance to see
Neil Patrick Harris
and
Jayma Mays
star as "an expectant couple whose lives are turned upside down when the Smurfs cross over from their magical village to New York City",
Hank Azaria
will play the evil wizard Gargamel, while georgeous
Sofia Vergara
plays Odile, Harris's boss, a cosmetics executive. So, get ready for
Smurfs
adventures guys because Columbia Pictures is planning an August 3, 2011 release.