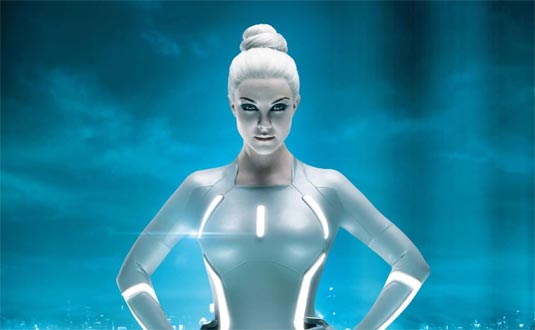 Walt Disney Pictures has released a brand new banner from the upcoming sci-fi sequel Tron: Legacy, which features Beau Garrett as Siren Jem.
This will be a sequel to the original 1982 cult classic. Tron Legacy is a 3D high-tech adventure about a father and son (Jeff Bridges, Garrett Hedlund) who embark on a life-and-death journey of escape across a visually-stunning cyber universe that has become far more advanced and exceedingly dangerous. The original, about a computer programer thrust into a computer and forced to fight in games he helped create, is remembered for its sci-fi gladiator-style battles and groundbreaking special effects. It was the first movie to use computer-generated images instead of models and other optical effects in conjunction with live action. The arcade game based on the movie was so popular that it earned more than the movie.
Tron: Legacy plot synopsis:
Sam Flynn (Hedlund), a rebellious 27-year-old, is haunted by the mysterious disappearance of his father Kevin Flynn (Bridges), a man once known as the world's leading video-game developer.
When Sam investigates a strange signal sent from the old Flynn's Arcade — a signal that could only come from his father– he finds himself pulled into a digital world where Kevin has been trapped for 20 years.
With the help of the fearless warrior Quorra (Olivia Wilde), father and son embark on a life-or-death journey across a cyber universe — a universe created by Kevin himself that has become far more advanced with vehicles, weapons, landscapes and a ruthless villain who will stop at nothing to prevent their escape.
Joseph Kosinski directs the Sci-Fi thriller, which co-stars Michael Sheen, Serinda Swan, Bruce Boxleitner and John Hurt.
Reportedly, some reshoots were done with the suggestions of Brad Bird and Michael Arndt of Pixar. The reshoots focused on Sam's character and his relationship with his father. Back story is always good in a movie, and Pixar is known for their back stories, nothing but the greatest.
Tron: Legacy will be hitting 3D theaters and IMAX 3D theaters December 17th, but until then keep it here for all your Tron: Legacy news.