Movie Trailers
New Zhang Yimou's THE FLOWERS OF WAR Trailer Starring Christian Bale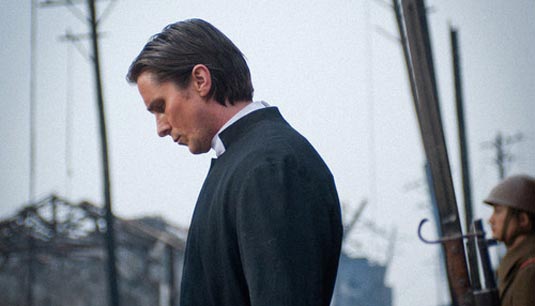 New fantastic trailer for China's entry into the Oscars this year,
Zhang Yimou
's
The Flowers of War
, has been revealed. Great cinematography, music and judging by this trailer also strong performances. When we add a powerful story about an American man (
Christian Bale
) who comes to shelter and save a convent of young girls stuck at a church in occupied Nanking, China during WWII we must get a gorgeous movie. The Flowers of War is based on
Geling Yan
's novel
13 Flowers of Nanjing
inspired by true life events.
Liu Heng
adapted the story directed by acclaimed and award-winning Chinese filmmaker Yimou (House of Flying Daggers, Hero, Raise the Red Lantern, Curse of the Golden Flower). The movie also stars 13-year-old
Zhang Xinyi
as Shu, an innocent school girl who along with her fellow classmates is taken under Miller's protective wing.
Huang Tianyuan
stars as George, a young boy charged with protecting the sanctuary and its refugees,
Tong Dawei
(Red Cliff) as Major Li, a war-weary soldier determined to save the life of a wounded compatriot,
Atsuro Watabe
as Colonel Hasegawa, commander of the occupying Japanese army,
Shigeo Kobayashi
as Lt. Kato, his ruthless sidekick and
Cao Kefan
as Mr. Meng, a Chinese civilian who will do anything to save the life of his daughter. The film will have its world premiere in Beijing on December16th, 2011.