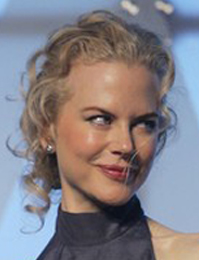 Romance is in the air! And this time brought to you by an Australian angel,
Nicole Kidman
. We all know this lady didn't have much luck lately, and we could call her current phase something like 'series of flops'. On the other hand, she's dealing with some critics out there that say Kidman should definitely try to find some good role that would bring her reputation back. Can
The Wedding Doctor
be Nicole's big comeback? That's exactly the title of the new movie that already sounded like some female version of well-known
Hitch
. In the film, Kidman would play a relationship analyst who advises couples on their interpersonal dynamics before they marry. But after she meets her latest clients, the doc decides she'd actually be a better match for the groom-to-be, triggering a showdown with his fiancée. But as we said, nobody was very interested in details about the movie, the real question now is – will this romantic comedy going to bring any success? Or is it possible that it's doomed to failure as some believe? They also think some other actress deserved an opportunity to take a starring role, and that Kidman's not worth the risk. We could call that a little bit cruel…maybe? Let us remind: after becoming the highest-paid actress in Hollywood in 2006, Kidman made a string of flops both large and small:
Nine, Australia, The Golden Compass, The Invasion
, and
Fur: An Imaginary Portrait of Diane Arbus
have all been box-office disasters. The same thing happened with her last romantic comedy, a film adaptation of the popular show
Bewitched
. Ok, well, that is true, but still, you have people saying they watched these movies just because Nicole was in them. Maybe that's exactly the thing that motivated Relativity Media, the large independent motion-picture production and investment company, since this is going to be their project? Who knows… One thing is for sure,
The Wedding Doctor
is coming! We really hope this time Nicole found her lucky role, and that her taste will align with mass audience..