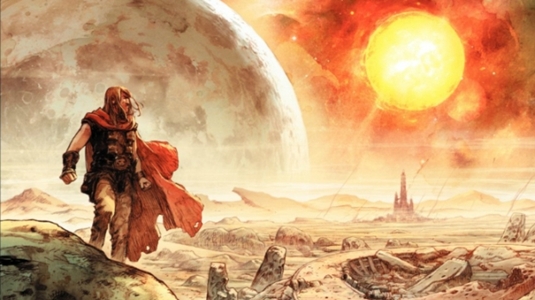 Pretty obscure set pics from Darren Aronofsky's upcoming Biblical epic Noah have arrived just in time to remind us that… well, that the earth needs to be saved, or something like that. Described as a violent, freaky, scary adaptation, Aronofsky's story will focus on the land before the flood, more than the actual event itself, and as you already had a chance to see – Noah really looks like a Mad Max out of the depths of time… As usual, make sure you click on all these images to take a better look, and let us once again remind you that Aronofsky and John Logan stand behind this close adaptation of the Biblical story of Noah's Ark, which definitely has an awesome cast on board. In case you forgot, Russell Crowe, Jennifer Connelly, Saoirse Ronan, Douglas Booth, Logan Lerman, Emma Watson, Ray Winstone, Anthony Hopkins, Kevin Durand and Mark Margolis all star in the movie which is set to hit theaters on March 28th, 2014. The movie will focus on a dark, complicated character Noah, who is given a divine mission: to build an Ark to save creation from the coming flood. In other words:
Subject to divine visions foretelling the end of the world, Noah attempts to tell his people to cease their mistreatment of the earth in order to be saved. No one listens to his warnings, and Noah and his family are cast out to fend for themselves in the wilderness. Noah approaches a race of giant six-armed angels known as the Watchers to rally them to his cause.
Or, as director Aronofsky previously explained:
It's about trying to create a world where the story of Noah could be truthful and could take place, and make it something that could connect to a modern audience. There's a lot of ideas in that story that actually are very, very relevant to what's going on right now, so we tried to create a story that would ring true to people both that believe that it really happened and to those who think it's a story.
Definitely sounds (and looks) promising, hope you agree? [All photos removed by Paramount Pictures request]