Movie News
NYMPHOMANIAC Adds Lars von Trier Veterans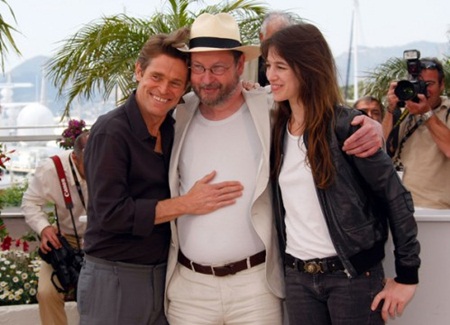 Manderlay and Antichrist's
Willem Dafoe
is re-teaming with so-called 'controversial' Danish director
Lars von Trier
for erotic drama
Nymphomaniac
, currently shooting in and around Cologne, Germany. Joining the final round of announcement are: German actor
Udo Kier,
who has appeared in most of Lars von Trier's films; French actor
Jean-Marc Barr
, who worked with von Trier on Dogville, Dancer in the Dark and Breaking the Waves, as well as
Caroline Goodall
(Schindler's List) and
Kate Ashfield
(Shaun of the Dead),
Saskia Reeves
(Butterfly Kiss) and lastly, Danish  writer/director/actor
Omar Shargawi
(R). However, Nicole Kidman, who had long been rumored as another possible addition to the Nymphomaniac cast, has dropped out. Von Trier's two-part erotic epic previously announced cast members are
Charlotte Gainsbourg
, the film's lead, Jo, a self-diagnosed nymphomaniac who tells her story to an older bachelor, played by
Stellan Skarsgard
;
Shia LaBeouf, Christian Slater, Jamie Bell, Uma Thurma
n and
Connie Nielsen
also feature in the ensemble drama, which is being shot as two feature length films, both hard- and soft-core versions.
NYMPHOMANIAC is the light and poetic story of a woman's erotic journey from birth to the age of 50 as told by the main character, the self-‐diagnosed nymphomaniac, Joe. On a cold winter's evening Seligman, an old bachelor, finds Joe semi‐unconscious and beaten up in an alleyway. After bringing her to his flat he sees to her wounds while trying to understand how things could have gone so wrong for her. He listens intently as she over the next 8 chapters recounts the lushly branched-‐out and multi faceted story of her life, rich in associations and interjecting incidents.
Source:
THR