Movie Trailers
OBAMA Biopic Will Reteam Steven Spielberg and Daniel Day-Lewis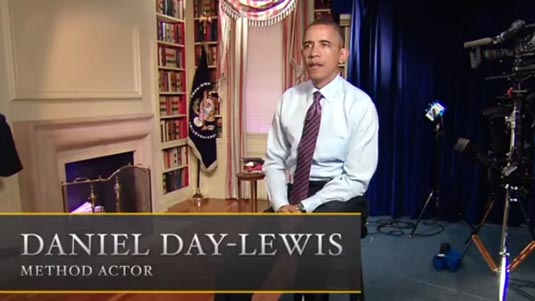 Last night, during the White House Correspondents' Dinner,
Steven Spielberg
announced that he would be teaming back up with
Daniel Day-Lewis
to bring us another puppet I mean presidential biopic,
Obama
. Wait, what? Wow. It must be a great honour to be one of the few getting a biopic and not be dead yet. Anyway, check the video out: We even get our first look at Day-Lewis as Obama, and he talks about his transformation into the president. At least the vid is funny a bit. I didn't know that Spielberg had a sense of humor because IT'S A LINCOLN SPOOF, in case you haven't cracked it yet. I hope you got a good laugh, or at least smile. Btw. it just occured me, what would your reaction be if this was real? Would you like it, or hate it?