Movie Posters
Two OBLIVION Posters Featuring Tom Cruise and Morgan Freeman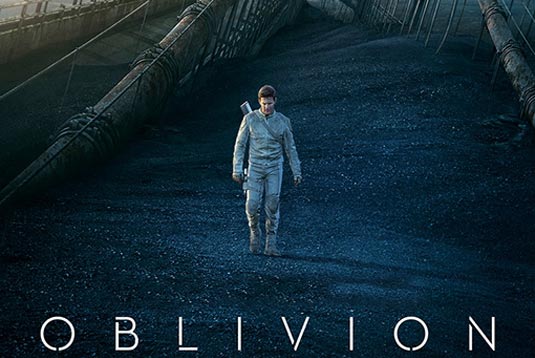 Two new posters for
Joseph Kosinski
's sci-fi action thriller
Oblivion, 
starring Tom Cruise as Jack Harper and
Morgan Freeman
as mysterious character Malcolm Beach, are now online and you can check them both out below, courtesy of
EW
. Jack Harper is one of the last men on Earth while the rest of civilization lives in new cities in the sky. When a crash-landed pilot (
Olga Kurylenko
) emerges, along with a mysterious group of underground survivors, lead by Malcolm Beach (Morgan Freeman), Jack is forced to question everything he knows about the planet.
Andrea Riseborough
, 
Melissa Leo,
Zoe Bell, Nikolaj Coster-Waldau, and Catherine Kim Poon are also featured in the movie.
Oblivion
opens on April 19th, 2013 exclusively in IMAX theaters, and expands nationwide on April 19th. Check out the
first poster
just in case you missed it. Here's the synopsis for the movie
Tom Cruise stars in Oblivion, an original and groundbreaking cinematic event from the director of TRON: Legacy and the producer of Rise of the Planet of the Apes. On a spectacular future Earth that has evolved beyond recognition, one man's confrontation with the past will lead him on a journey of redemption and discovery as he battles to save mankind. Jack Harper (Cruise) is one of the last few drone repairmen stationed on Earth. Part of a massive operation to extract vital resources after decades of war with a terrifying threat known as the Scavs, Jack's mission is nearly complete. Living in and patrolling the breathtaking skies from thousands of feet above, his soaring existence is brought crashing down when he rescues a beautiful stranger from a downed spacecraft. Her arrival triggers a chain of events that forces him to question everything he knows and puts the fate of humanity in his hands.