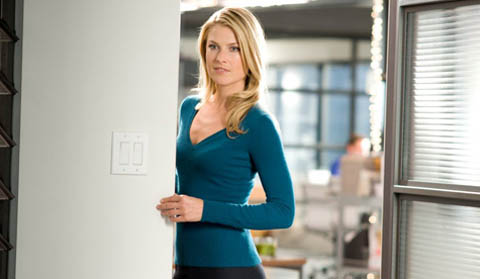 "
Obsessed
" follows in the footsteps of film like "
Fatal Attraction
" (
Michael Douglas, Glenn Close
) from 1987 in that it tells of a married successful asset manager Derek Charles (
Idris Elba
) who has just received a huge promotion, is blissfully happy in his career and in his marriage to the beautiful Sharon (
Beyoncé Knowles
). But when Lisa (
Ali Larter
), an obsessive and sexy temp worker, starts stalking Derek, all the things he's worked so hard for are placed in jeopardy. Will Ali Larter,
Heroes
' star be
scarier
than Glenn Close? Take a look at trailer and poster for
Steven Shill
's upcoming movie "Obsessed" below. Directed by Steve Shill from the script by
David Loughery
, the thriller stars
Idris Elba, Beyonce Knowles, Ali Larter, Bruce McGill, Christine Lahti
and
Jerry O'Connell
. "Obsessed" opens April 24th, 2009.