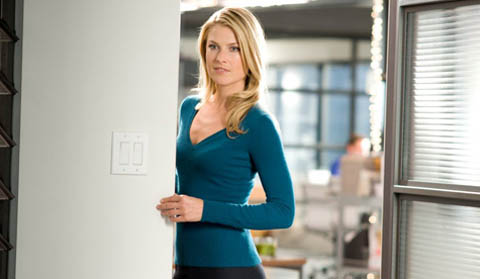 "Obsessed" follows in the footsteps of film like "Fatal Attraction" (Michael Douglas, Glenn Close) from 1987 in that it tells of a married successful asset manager Derek Charles (Idris Elba) who has just received a huge promotion, is blissfully happy in his career and in his marriage to the beautiful Sharon (Beyoncé Knowles). But when Lisa (Ali Larter), an obsessive and sexy temp worker, starts stalking Derek, all the things he's worked so hard for are placed in jeopardy.
Will Ali Larter, Heroes' star be scarier than Glenn Close?
Take a look at trailer and poster for Steven Shill's upcoming movie "Obsessed" below.
Directed by Steve Shill from the script by David Loughery, the thriller stars Idris Elba, Beyonce Knowles, Ali Larter, Bruce McGill, Christine Lahti and Jerry O'Connell. "Obsessed" opens April 24th, 2009.