Movie News
Online Twitter Game For Terminator Salvation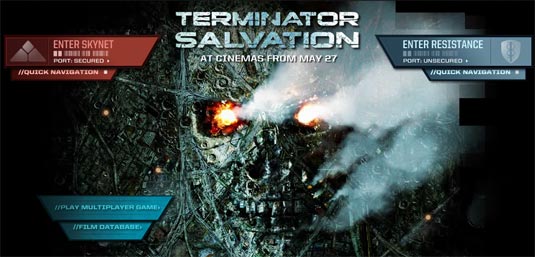 In anticipation of the worldwide release of the motion picture Terminator Salvation, Twitter users will have the chance to join the human resistance against the machines in Sony Pictures Releasing International's first-ever game created for the social networking platform, it was announced today by Sal Ladestro, executive vice president of marketing, Sony Pictures Releasing International. Users can follow tweets from the resistance at www.Twitter.com/Resistance2018.
In the Terminator Salvation Twitter game, members of the human resistance communicate with each other through Twitter and turn to the community for help in decoding intercepted Skynet transmissions. Players earn points through timely assistance in decoding these messages and, with these points, rise in rank within the Resistance Army. Players must constantly be on guard against the machines, which periodically and randomly choose a number of players and penalize them a percentage of their points. A companion blog augments the information within Twitter and hosts a leader board for the game.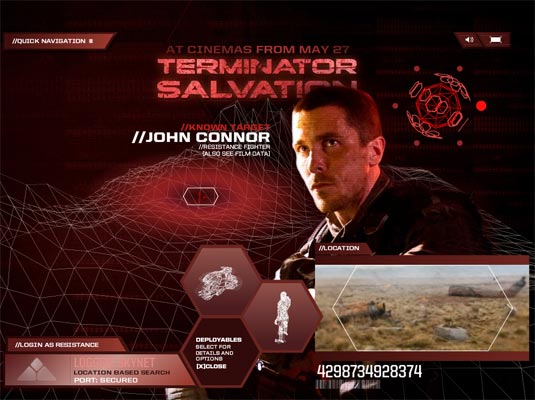 Sal Ladestro  commented:
"Twitter users can join John Connor in the war against the machines by following the tweets at Resistance 2018. In the fight against Skynet and the Terminators, mass communication is vital, so it's no surprise that the resistance would turn to Twitter. We think this is the perfect environment for the Terminator game as it allows users to interact with the movie, their friends and other game players instantaneously."
Prepare for the game at 2018Blog.com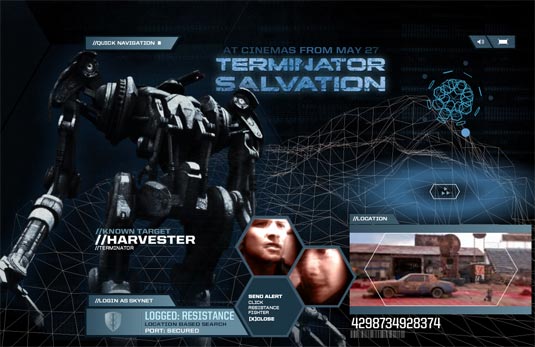 The highly anticipated new installment of The Terminator film franchise, Terminator Salvation is directed by McG (Charlie's Angels, We Are Marshall).
The film stars Christian Bale (The Dark Knight) as John Connor, Sam Worthington (The Great Raid) as Marcus Wright, Anton Yelchin (Star Trek) as Kyle Reese, Bryce Dallas Howard (Spider-Man 3) as Kate Connor, Moon Bloodgood (What Just Happened?) as Blair Williams, Common (Wanted) as Barnes, Jane Alexander (The Unborn) as Virginia, Jadagrace as Star, and Helena Bonham Carter (Harry Potter and the Order of the Phoenix) as Serena Kogen.
Terminator Salvation game screenshots:
Terminator Salvation will be released in the U.S. on May 21, 2009.