Movie News
Oprah Winfrey Joins Princess and the Frog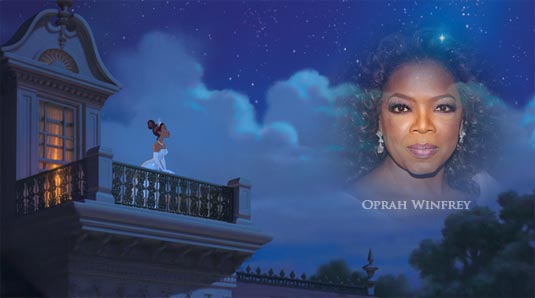 Oprah Winfrey has joined the voice cast of the upcoming Disney animated film "The Princess and the Frog."
Disney's John Lasseter, the chief creative office at Pixar and Walt Disney Animation Studios, had some big announcements in store for the crowd including one about their upcoming animated film "The Princess and the Frog."
The new movie is a musical set in New Orleans, the legendary birthplace of jazz. Audiences will be introduced to the newest Disney princess, Tiana, a young African-American girl living amid the charming elegance and grandeur of the fabled French Quarter. From the heart of Louisiana's mystical bayous and the banks of the mighty Mississippi comes an unforgettable tale of love, enchantment and discovery with a soulful singing crocodile, voodoo spells and Cajun charm at every turn.
Winfrey will voice the role of Eudora, the mother of the lead character, Princess Tiana, which will be voiced by Anika Noni Rose.
"The Princess and the Frog" is co-directed by Ron Clements and John Musker (Aladdin, Hercules, and Treasure Planet.) The script for the film was also written by Clements and Musker as well as other Disney regulars.
The film opens December 25, 2009.