Welcome to the Oscars 2013 live blog! Relax, the ceremony hasn't started yet, which means that we still have time for gossip! The most important thing at this moment is red carpet, you know – the usual stuff: Valentino, Cavalli, Armani… But, before we start all that (and finish with the complete list of winners), let us remind you that you can watch Oscars live right here at our site, and in case you want to share your thoughts about the show – you can join our Live Chat as well. The only thing you'll have to do is refresh this page for our latest "big" thoughts on the tonight's show, hope that won't be a big trouble for you.
Let's be honest – it all started with Jessica Chastain and her Armani Prive dress. Absolutely stunning – well, maybe, but will that be enough for the Best Actress part of the story? We'll see about that. "It reminds me of old Hollywood glamour" – said Chastain. Well, if glamour is a new word for boring… (don't shoot, so what if I hate the dress?) Somewhere between Halle Berry's dress and Benn Affleck & his lovely wife Jennifer Garner, several hundred people (read: protesters) arrived to demand better treatment for the artists who make the spectacular visuals for blockbuster movies possible.
Let's show our support by quoting IATSE labor organizer Steven Kaplan, who helped organize the demonstration:
I hope that the world realizes that the visual effects industry is looking for change. I think that's all that can be accomplished today, that the world looks around and sees the visual effects industry is no longer quiet and accepting the conditions they're working under.
It looks that Adele is wearing the exact same dress everywhere these days. You know, the black one that makes her look like she's 50 or something. In case you want to know the name of that dress (yep, that thing actually has a name), please write this: a Jenny Packham dress. You're welcome!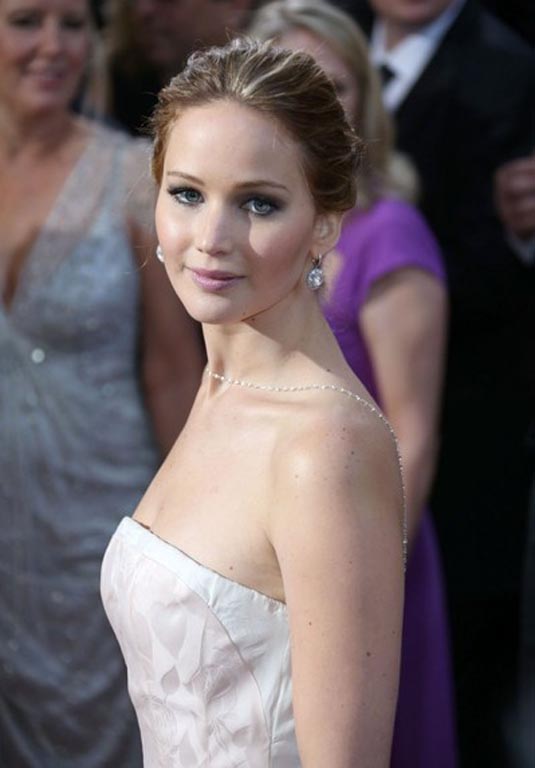 Seth MacFarlane is here, the show is now officialy LIVE! Wow, that's what we call one goooood homage to the big/small/all the boobs in the world! Way to go MacFarlane! That was totally weird, by the way. We have the first winner – Christoph Waltz wins Best Supporting Actor for his role in Django Unchained. Don't worry, he's not crying! Paperman wins Best Animated Short – hate to say I told you so, but hey – I told you so!
Brave wins Best Animated Film… too bad, I actually thought that Wreck-It Ralph has a chance… Here we go – second golden guy for Ang Lee's Life Of Pi! And what about those protesters? What protesters – someone said? Ok then, let's add – Life of Pi wins Best Cinematography and Best Visual Effects (read: no Oscar for you Hobbit!) When it comes to Best Makeup and Hairstyling – nothing to be surprised about – the first Academy Award goes to Les Miserables! They sure looked miserable! Best Costume Design – an Oscar goes to Anna Karenina. Fair. James Bond tribute – that was all? I mean, no Tina Turner? Blah! And, by the way – Curfew wins Best Short Film, while Innocente wins Best Documentary Short. Congrats, now let's make a sandwich!
Guess what, Haneke's Amour wins Best Foreign Film! I hear there were some other movies nominated in the same category… rumors, guess… And now, let's dance, please don't stop the music, turn up the music, pretend you're Travolta or whatever… Please, Jennifer Hudson, we know you're a good singer, but don't yell at us! Yeah, bring Hugh Jackman in. Thank you. I said – Hugh Jackman, no Anne Hathaway! Fuck! Where's my remote?! Ted and Mark Wahlberg are still out there which means that we have two new winners… wait, make that three new winners… I'm officially lost, check them out in our list below! Ok, I'm in again – Best Supporting Actress is Anne Hathaway. Which means I'm out again. Wait, she's married? Let the sky fall… (but this is not the end, so don't hold your breath & don't count to 10… it's just Adele singing!) That awkward moment when you realize that you have no idea what Nicole Kidman is talking about. Oh, wait, she's actually here to… nope, I give up!
Quick update: Salma Hayek looks great. And she will share some Oscars, but that's not important 'cause she looks awesome! Barbra Streisand time! The Way We Were – as a tribute to those in the industry who have recently passed. Best Actor & Actress – after the break! Trust me, you need a coffee! No, wait, it's Best Adapted Screenplay first. Well, well, Argo wins, and Chris Terrio is sweating like hell. Calm down, man, they need you alive! Quentin Tarantino is not sweating, I think he's drunk or just very happy for receiving an Oscar for Best Original Screenplay.
Best Director – Ang Lee! Can we say that Lincoln is the big loser of the night now, or shall we wait? Jennifer Lawrence wins Best Actress In a Leading Role, and falls by the way. That's what I call luck! Daniel Day-Lewis wins Best Actor. But Lincoln tonight… epic fail. Wait, what? Michelle Obama presenting BEST PICTURE? Does it mean Django will win? No, it's Argo! Ben Affleck is crying, his wife is crying, which means – the show is over! It's FINALLY OVER! Good night everyone, and please – bring Ricky Gervais next year!
PERFORMANCE BY AN ACTOR IN A LEADING ROLE:
Bradley Cooper in Silver Linings Playbook

Daniel Day-Lewis in Lincoln

Hugh Jackman in Les Misérables Joaquin Phoenix in The Master Denzel Washington in Flight
PERFORMANCE BY AN ACTOR IN A SUPPORTING ROLE:
Alan Arkin in Argo Robert De Niro in Silver Linings Playbook Philip Seymour Hoffman in The Master Tommy Lee Jones in Lincoln

Christoph Waltz in Django Unchained
PERFORMANCE BY AN ACTRESS IN A LEADING ROLE:
Jessica Chastain in Zero Dark Thirty Jennifer Lawrence in Silver Linings Playbook Emmanuelle Riva in Amour Quvenzhané Wallis in Beasts of the Southern Wild Naomi Watts in The Impossible
PERFORMANCE BY AN ACTRESS IN A SUPPORTING ROLE:
Amy Adams in The Master Sally Field in Lincoln

Anne Hathaway in Les Misérables

Helen Hunt in The Sessions Jacki Weaver in Silver Linings Playbook
BEST ANIMATED FEATURE FILM:
Brave Frankenweenie ParaNorman The Pirates! Band of Misfits Wreck-It Ralph
ACHIEVEMENT IN CINEMATOGRAPHY:
Anna Karenina – Seamus McGarvey Django Unchained – Robert Richardson Life of Pi – Claudio Miranda Lincoln – Janusz Kaminski Skyfall – Roger Deakins
ACHIEVEMENT IN COSTUME DESIGN:
Anna Karenina – Jacqueline Durran

Les Misérables – Paco Delgado Lincoln – Joanna Johnston Mirror Mirror – Eiko Ishioka Snow White and the Huntsman – Colleen Atwood
BEST DIRECTOR:
Michael Haneke – Amour Benh Zeitlin – Beasts of the Southern Wild Ang Lee – Life of Pi Steven Spielberg – Lincoln David O. Russell – Silver Linings Playbook
BEST DOCUMENTARY FEATURE:
5 Broken Cameras The Gatekeepers How to Survive a Plague The Invisible War

Searching for Sugar Man
BEST DOCUMENTARY SHORT SUBJECT:
Inocente Kings Point Mondays at Racine Open Heart Redemption
ACHIEVEMENT IN FILM EDITING:
Argo – William Goldenberg Life of Pi – Tim Squyres Lincoln – Michael Kahn Silver Linings Playbook – Jay Cassidy and Crispin Struthers Zero Dark Thirty – Dylan Tichenor and William Goldenberg
BEST FOREIGN LANGUAGE FILM:
Amour – Austria

Kon-Tiki – Norway No – Chile A Royal Affair – Denmark War Witch – Canada
ACHIEVEMENT IN MAKEUP AND HAIRSTYLING:
Hitchcock – Howard Berger, Peter Montagna and Martin Samuel The Hobbit: An Unexpected Journey – Peter Swords King, Rick Findlater and Tami Lane Les Misérables – Lisa Westcott and Julie Dartnell
BEST ORIGINAL SCORE:
Anna Karenina – Dario Marianelli Argo – Alexandre Desplat Life of Pi – Mychael Danna Lincoln – John Williams Skyfall – Thomas Newman
BEST ORIGINAL SONG:
Before My Time from Chasing Ice Everybody Needs A Best Friend from Ted Pi's Lullaby from Life of Pi

Skyfall from Skyfall

Suddenly from Les Misérables
BEST MOTION PICTURE OF THE YEAR:
Amour Argo Beasts of the Southern Wild Django Unchained Les Misérables Life of Pi Lincoln Silver Linings Playbook Zero Dark Thirty
ACHIEVEMENT IN PRODUCTION DESIGN:
Anna Karenina The Hobbit: An Unexpected Journey Les Misérables Life of Pi Lincoln
BEST ANIMATED SHORT FILM:
Adam and Dog Fresh Guacamole Head over Heels Maggie Simpson in The Longest Daycare Paperman
BEST LIVE ACTION SHORT FILM:
Asad Buzkashi Boys Curfew Death of a Shadow (Dood van een Schaduw) Henry
ACHIEVEMENT IN SOUND EDITING:
Argo Django Unchained Life of Pi Skyfall Zero Dark Thirty
ACHIEVEMENT IN SOUND MIXING:
Argo

Les Misérables

Life of Pi Lincoln Skyfall
ACHIEVEMENT IN VISUAL EFFECTS:
The Hobbit: An Unexpected Journey Life of Pi Marvel's The Avengers Prometheus Snow White and the Huntsman
BEST ADAPTED SCREENPLAY:
Argo by Chris Terrio

Beasts of the Southern Wild by Lucy Alibar & Benh Zeitlin Life of Pi by David Magee Lincoln by Tony Kushner Silver Linings Playbook by David O. Russell
ORIGINAL SCREENPLAY:
Amour Written by Michael Haneke

Django Unchained Written by Quentin Tarantino

Flight Written by John Gatins Moonrise Kingdom Written by Wes Anderson & Roman Coppola Zero Dark Thirty Written by Mark Boal