Movie News
Oscar-winning Screenwriter Steve Zaillian to Direct TIMECRIMES Remake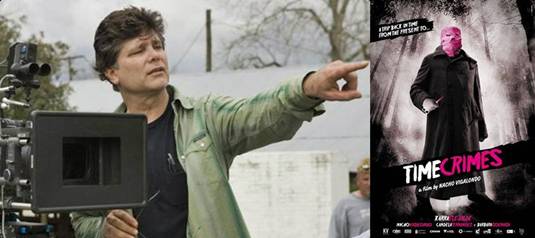 'The most artful and subtle screenwriter Hollywood has had since Robert Towne,' an Oscar winner for Schindler's List and two-time nominee for Awakenings and Gangs of New York has earned its reputation as the undisputed king of the adaptation. Steve Zaillian, who is of an Armenian descent like the genius Sergei Parajanov has written for Spielberg (Schindler's List), Scorsese (Gangs Of New York), and Ridley Scott (Hannibal, American Gangster). His last adaptation of Stieg Larsson's crime trilogy, The Girl With The Dragon Tattoo is a superb work of art, regardless of some of its brutal content. Zaillian also co-wrote the script for Moneyball along with Aaron Sorkin. His next projects including the planned English remake of Nacho Vigalondo's Spanish science fiction film Timecrimes (Los Cronocrímenes) for DreamWorks Pictures. An English language remake of the film is earlier planned for 2012, and it was proposed to David Cronenberg (A Dangerous Method), but he denied any involvement with the project. Zailian on the other hand has brought himself nearer to directing it. He told ComingSoon.net:
That's something I might direct but I don't know. We have to cast it, but it's a tricky one, because I want to make it really low budget. I don't want to do a really big budgeted film for that. I think part of its appeal is that it's kind of a low budget thriller, but it's even hard to get that made without a major actor, so the trick is to find the right actor that doesn't suddenly push the budget up into the 20s or 30s. I'd like to make it for 10 million bucks. You look at it and it's one of the rare opportunities where you have four characters, two locations, why do you need to spend $40 million dollars? This is a gift, this is a story that you wouldn't want to tell any differently, and it happens to be an economical way to go.
He also spoke about his adaptation of Khaled Hosseini's novel 'A Thousand Splendid Suns,' that revolves around two Muslim women, married to the same man, who foster a friendship that lasts more than 10 years against the backdrop of war in Afghanistan:
We're still talking about it. The way I want to do it is make basically a foreign film. I want this to be done by a Middle Eastern director with Middle Eastern actors, maybe even in Farsi, and approach it in the exact opposite way that they did 'The Kite Runner' and make it a really indigenous film to the area. That's a tough approach to get the money for, so that's what we're trying to do. Unlike 'Dragon Tattoo,' where I had no qualms about setting it in Sweden but the people would be speaking in English–I thought that was the right way to go–but with 'A Thousand Splendid Suns,' I think it would be more distinctive if it was made indigenously.
More as it comes… [youtube]http://www.youtube.com/watch?v=gfyQia26_mU[/youtube]

Los Cronocrímenes – Teaser Trailer

Source: ComingSoon