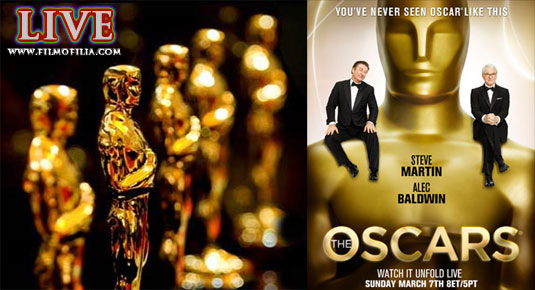 If you like spending nights on our site, I promise you – you don't even have to move! Watch the Oscars 2010 Live right here, on Filmofilia!
If you, by some miracle, still don't know who the 2010 Oscar nominees, or maybe presenters are, check it right now, and if you, at some moment, wish to share your opinion with other people, go and check our new Live Chat!
Oscars 2010 Red Carpet LIVE!
Interviews with the stars at the 82nd Academy Awards Sunday March 7 — 3 PM PT / 6 PM ET :
The Oscars 2010 is the 82nd Academy Awards that honors the best films of 2009 such as Avatar,The Hurt Locker,Inglourious Basterds, The Blind Side, Up in the Air and many more.
The Oscars 2010 will take place live at the Kodak Theatre in Hollywood, Los Angeles, California and will be hosted by actors Actors Alec Baldwin and Steve Martin.