Movie Photos
OZ: THE GREAT AND POWERFUL TV Spot and EW Magazine Cover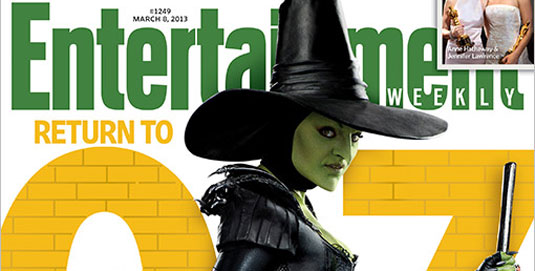 Walt Disney Pictures has revealed online the fourth TV spot for the upcoming Sam Raimi's magical adventure, Oz: The Great and Powerful (via Fandango). Entertainment Weekly has also unveiled the cover for their upcoming print edition, which features the Wicked Witch of the West. Despite getting quite a good look at her face, it isn't clear if Mila Kunis' Theodora or Rachel Weisz's Evanora is this notorious character. Take a look at the video and the magazine cover below, and then read on about what Raimi and Michelle Williams had to say about film: Sam Raimi first spoke about his hesitation in taking on the project, due to his love for the 1939 classic, The Wizard of Oz:
"The original is my favorite film of all time. I didn't want it sullied. I didn't want to be involved in a production that might trade off the goodwill of that film, so I didn't even want to read the script at first. Luckily I did. And then I realized that it wasn't at all what I thought."
Williams also spoke about how they wanted to take certain elements from The Wizard of Oz' Glinda the Good Witch, while still creating something new:
"We tried to think of what made Glinda in the original film, but we didn't want to lean too heavy-handedly on that."
Oz: The Great and Powerful hits the theaters on March 8th, 2013 and also stars James Franco, Zach Braff, Abigail Spencer, Joey King and Bill Cobbs.