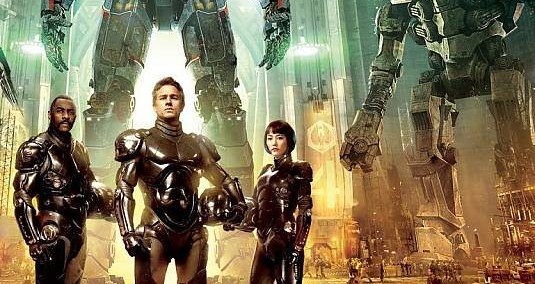 New TV spots for the upcoming Pacific Rim have arrived, and we definitely recommend you to check them out. Two great-looking 30-second videos are here to remind you that Guillermo del Toro's latest flick opens next month, and that the best way to fight monsters is to create a giant monster of your own! Take a look… [jwplayer mediaid="153951″] Written by del Toro and Travis Beacham, the movie is set in a near future where soldiers pilot giant robots into battle against invading giant monsters who have risen from beneath the ocean. Those massive robots aka Jaegers, are controlled simultaneously by two pilots whose minds are locked in a neural bridge, and the rest of the story goes like this:
But even the Jaegers are proving nearly defenseless in the face of the relentless Kaiju. On the verge of defeat, the forces defending mankind have no choice but to turn to two unlikely heroes – a washed up former pilot and an untested trainee – who are teamed to drive a legendary but seemingly obsolete Jaeger from the past. Together, they stand as mankind's last hope against the mounting apocalypse.
[jwplayer mediaid="153963″] As we previously reported, Charlie Hunnam, Idris Elba, Rinko Kikuchi, Charlie Day, Ron Perlman, Robert Kazinsky, Max Martini, Clifton Collins are set to lead us through this sci-fi spectacle, which is set to hit theaters on July 12th, 2013. In case you've missed our previous reports, here's the latest official trailer, more TV spots, posters, and one pretty cool featurette for the movie. Let us know what you think about these videos & stay tuned for more updates!