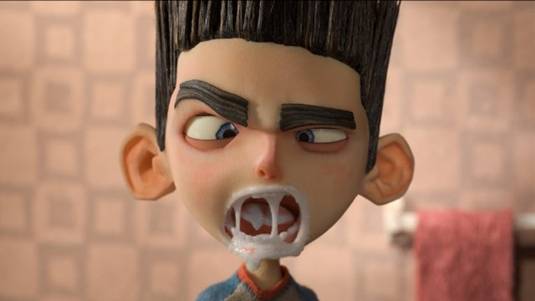 Laika's stop-motion horror ParaNorman reveals that 'You don't become a hero by being normal.'
The wacky fun horror flick, featuring the voice of Kodi Smit-McPhee as Norman from animation company LAIKA, reteams the company with Focus Features after the groundbreaking Academy Award-nominated Coraline.
The second international trailer for Chris Butler's original Laika project has just been released.
As you already know ParaNorman also stars a great cast of voices including Tucker Albrizzi, Casey Affleck, Anna Kendrick, Christopher Mintz-Plasse, Leslie Mann, Jeff Garlin, John Goodman, Elaine Stritch, Bernard Hill, Alex Borstein, Tempestt Bledsoe, Hannah Noyce.
Directed by Sam Fell (The Tale of Despereaux) and Chris Butler the story follows misunderstood local boy, Norman who is able to see and speak with the dead. The original screenplay is by Butler who also done storyboard work for Coraline and Corpse Bride.
ParaNorman is set to hit theaters in 3D starting August 17th this summer.
Check out the trailer below:
[youtube]http://www.youtube.com/watch?v=wrFmJdnMdjg[/youtube]