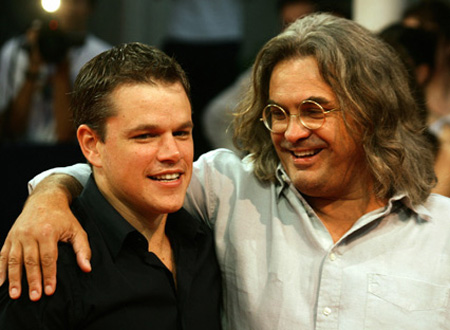 We sure enjoyed watching
the Bourne trilogy
story with
Matt Damon
in the leading role, but seems like his mission this time really ends… Everything started with
The Bourne Identity
, 2002 spy film based on
Robert Ludlum
's novel of the same name, directed by
Doug Liman
. In very short time, movie recevied a positive critical and public reaction, so it was pretty logical that Jason Bourne's adventures are not over. The film was followed by a 2004 sequel
The Bourne Supremacy
, and 2007 Oscar nominated third part
The Bourne Ultimatum
, with
Paul Greengrass
taking over for the second and third installments. Although Matt Damon and Paul Greengrass claimed they were calling it quits after the third installment, at one moment – both were reported to be attached to the fourth film. So the speculations continued, until Greengrass decided to stop them, saying:
"Listen, I just love the Bourne franchise, number one, and I owe it a great deal, and I gave my all on the two films that I made. But when I was honest with myself last Autumn, and I was starting to get going on other things, you just come to a point where you realize you've done it," he began.
"To make a film, it's 19 months of your life seven days a week, 20 hours a day, you've got to have real… and there were just too many other things that I was interested in. I felt like I'd had a wonderful, wonderful time, I loved it and I want it to continue. In the end, contrary to reports, there was never an argument with the studio of any kind at all. I did spend some time thinking that I might (do it) and getting myself to a place of 'what would it be?' and it's only when you do that where you find, 'You know what? I'm gone. I'm onto other things.' I explained (it) to them. We had a very nice discussion–they were completely understanding–and I said 'We'll make some other movies.' They said 'Excellent.
On the other hand, Universal is planning to release some kind of Bourne's prequel, but seems like Damon is not going to be the part of the project. He even gave them some good ideas saing that:
"They have a good way to do a prequel with someone else, and basically make it about the Bourne identity, the actual identity. Any studio is interested in making it an evergreen that can just go on and on and on, and it never will with our character because he's resolved his issues now. He's got his memory back three times now. I don't think anybody wants to see me say 'I don't remember' again, but I think what we could do is that you can do some movies with another actor, anyone, whether it's Ryan Gosling or Russell Crowe or Denzel Washington, and he's Jason Bourne, and at the end of his one or two or three movies, you see them getting ready to pass the identity onto me, so it just becomes like a 007, it becomes the name that they give this certain person who is uniquely positioned. So then if Paul and I come back and do a fourth one in ten years, we'll pass it onto someone else and then the thing can kind of go on." Interesting, right?
So there you go. As we guessed, they all share the same opinion – with the third part story got completed, Bourne got his revenge, and seems like this is right time for those guys to get involved with some new projects.
We hope you're not too disappointed with their decision?