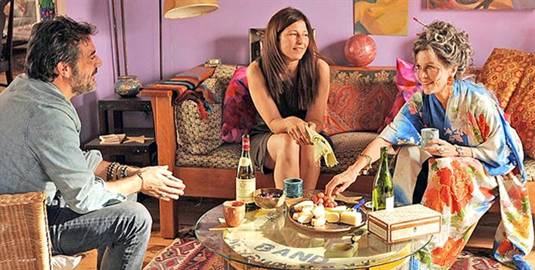 The first trailer for IFC Films' comedy-drama Peace, Love, & Misunderstanding, which made its premiere at last year's Sundance Film Festival, has debuted.
Bruce Beresford's (Driving Miss Daisy) new heart warming comedy stars the legendary actress Jane Fonda as a hippie grandmother named Grace, who houses her daughter Diane (Catherine Keener), an uptight NYC lawyer, and two grandchildren Zoe and Jake (Elizabeth Olsen and Nat Wolff) after Diane's husband asks for a divorce. Zoe and Jake have never met Grace, who hasn't seen her daughter for 20 years.
Jeffrey Dean Morgan and Chace Crawford (Gossip Girl's) also star as love interests to Diana and Zoe.
Beresford (The Contract) directs Peace, Love, & Misunderstanding from a script by freshmen writers Joseph Muszynski and Christina Mengert.
Olsen made a splash at Sundance this year with Liberal Arts and Red Lights.
Fonda will next be seen in The Butler, the film about a black butler named Eugene Allen who worked in the White House for 34 years; Fonda will portray Nancy Reagan alongside Forest Whitaker and Oprah Winfrey.
IFC Films has scheduled the film for limited release on June 8th, 2012. Check out the trailer below.
[youtube]http://www.youtube.com/watch?v=axNC9yc0iRA[/youtube]