Movie News
Philip Seymour Hoffman Accepted the Role in THE HUNGER GAMES: CATCHING FIRE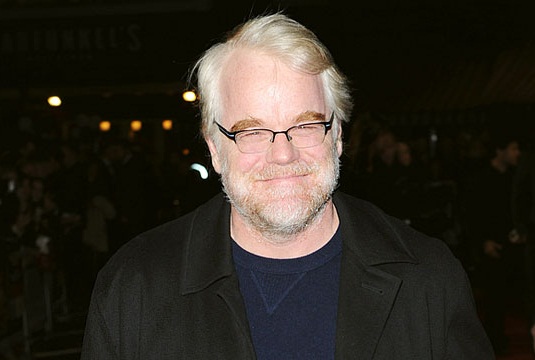 Last month, Oscar-winning actor
Philip Seymour Hoffman
was offered the role of Plutarch Heavensbee in the upcoming
Hunger Games
sequel and today Lionsgate has confirmed the news, in a press release that also includes the film's first synopsis. Hoffman has accepted the role and he is the first confirmed new actor to take a role in the
Catching Fire
film since Sucker Punch star
Jena Malone
who landed the role of Johanna Mason last week has yet to be officially hired. Based on Suzanne Collins' second book in her Hunger Games trilogy, Catching Fire is slated for a November 22nd, 2013 release.
The Hunger Games: Catching Fire
is set to go into production this fall, with
Francis Lawrence
directing the cast, which includes returning members
Jennifer Lawrence, Josh Hutcherson, Liam Hemsworth, Woody Harrelson, Lenny Kravitz, Elizabeth Banks
, and
Donald Sutherland
. Plutarch is the head gamemaker for the Hunger Games, and his role will probably be expanded for the movie. Hoffman, who last starred in Moneyball, next film projects include Paul Thomas Anderson's The Master and A Late Quartet. Here's the press release:
PHILIP SEYMOUR HOFFMAN CAST AS PLUTARCH HEAVENSBEE IN LIONSGATE'S THE HUNGER GAMES: CATCHING FIRE Santa Monica, CA, July 9, 2012- Lionsgate® and the filmmakers of THE HUNGER GAMES:CATCHING FIRE are pleased to announce that Philip Seymour Hoffman has been cast in the role of Plutarch Heavensbee, Head Gamemaker for The Hunger Games, in the much anticipated film adaptation of Suzanne Collins' worldwide smash hit novel Catching Fire. The actor and filmmaker just wrapped a Broadway run as Willy Loman in the revival of "Death of a Salesman" for which he was nominated for a Tony Award. He will next be seen in Paul Thomas Anderson's "The Master" and the indie film "A Late Quartet" alongside Catherine Keener and Christopher Walken. More recent films include "Moneyball," "The Ides of March" and "Jack Goes Boating" which marked Hoffman's feature directorial debut. THE HUNGER GAMES: CATCHING FIRE begins as Katniss Everdeen has returned home safe after winning the 74th Annual Hunger Games along with fellow tribute Peeta Mellark. Winning means that they must turn around and leave their family and close friends, embarking on a "Victor's Tour" of the districts. Along the way Katniss senses that a rebellion is simmering, but the Capitol is still very much in control as President Snow prepares the 75th Annual Hunger Games (The Quarter Quell) – a competition that could change Panem forever. THE HUNGER GAMES: CATCHING FIRE will be directed by Francis Lawrence, and produced by Nina Jacobson's Color Force in tandem with producer Jon Kilik. The novel on which the film is based is the second in a trilogy that has over 36 million copies in print in the U.S. alone. Lionsgate will release THE HUNGER GAMES: CATCHING FIRE on November 22, 2013.
Source:
EW