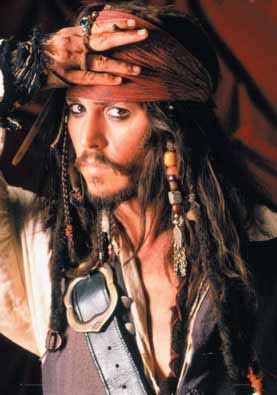 Producer
Jerry Bruckheimer
revealed that the studio is eager to make "
Pirates Of The Caribbean 4
" with
Johnny Depp
before he stars as Tonto in a new "
Lone Ranger
" movie. He has said that a new "Pirates Of The Caribbean" movie is a "priority" for Disney! Bruckheimer said that the original writers,
Terry Rossio
and
Ted Elliot,
were "writing 'Pirates' as we speak," and he said it was "funny" and a "whole new way of going" although he wouldn't share more than that. "It's a great franchise for them and for us, too," Bruckheimer said, "We love the character and Johnny was really excited about coming back to Captain Jack. He certainly is interested in Tonto, but Disney's priority is to get Pirates made first. You never know what's going to happen, but they would like it." Earlier,
we wrote that Gore Verbinski
informed
Disney
that he will not be the direcor of the fourth installment of the "Pirates of the Caribbean" franchise. Instead, Verbinski wanted to make a live-action adaptation of the bestselling video game "
BioShock
." But Verbinski recently announced that he may not direct a movie based on the video game. In an interview, ComingSoon.net asked Bruckheimer if there was a chance he might return for a fourth movie – "You never know. He created the franchise so we'd love to have him back, but it's kind of up to him," the producer said.