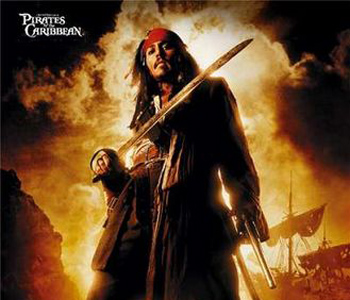 Surprise, surprise! Ok, we're joking, this news surprises just… no, wait, that kind of person doesn't exist! So, we are here to talk about
3D
again!
Pirates of the Caribbean 4: On Stranger Tides
will be shot in that 3D format thing. At least we have one big reason to be satisfied with this information – because, let us remind you, this means that movie is not going to be converted! Yeeeah! Hawaii and 3D? Ok, I do now that's it's about the story and effects and not about nature, but still… Never mind! Anyway, let's just remind you that
Johnny Depp
will be reprising his role as Jack Sparrow in Pirates of the Caribbean: On Stranger Tides, in which he will hunt for the legendary Fountain of Youth In the film,
Ian McShane
will play the villainous pirates Blackbeard and
Penelope Cruz
will play Blackbeard's daughter and Sparrow's love interest. So, that's pretty famous cast, and we have no reason to be suspicious about their roles, guess we all agree about that. On the other hand, pirates have new director
Rob Marshall
, so, looks like that is not bad decision after all. And, although we did have a chance to hear that Disney Studio is trying to cut costs on the fourth Pirates", this 3D announcement definitely doesn't mean less quality.
Pirates 4
will film entirely on location in Hawaii, Great Britain and Los Angeles, starting this June, and it will then hit theaters on May 20th, 2011. And, that's basically everything that we wanted to share with you at this moment. If you're a 3D fan, than you definitely enjoyed this kind of information, if you're not – then you probably hate Hollywood even more now (joke?). But anyway, make sure you stay tuned just in case we come back with some
no-way-it-will-be-in-3D-report
, ok?