Movie News
Possible Source Material For JUSTICE LEAGUE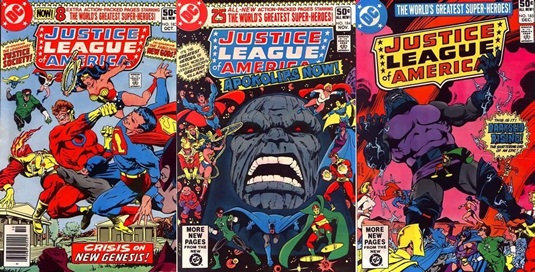 According to Latino-Review, who also broke Darkseid's identity, the script of the Justice League movie will be based on a three issue Justice League of America tale written by Gerry Conway with art by George Perez and not on the first arc of the New 52 Justice League as has been widely expected .
Therefore, screenwriter Will Beale would look at older material released in 1980. The storyline in question took place in Justice League of America #183-185 and involves Darkseid attempting to use a beam to knock Earth out of orbit and put his world, Apokolips, in its place.
The story is a crossover between the Justice League and the Justice Society of America from Earth-2, as the two teams were planning to meet up when Darkseid initiated his plan. Again, it's certainly worthy of gathering Superman, Batman, Wonder Woman, Green Lantern, and The Flash to work together alongside Aquaman and Martian Manhunter.
DC's team up movie is currently slated for a 2015 release, while Man of Steel is slated for release on June 14th, 2013, so it seems unlikely that an official Justice League announcement will come along before Man of Steel is in theaters. However, we shouldn't write this rumor off.
Stay tuned.