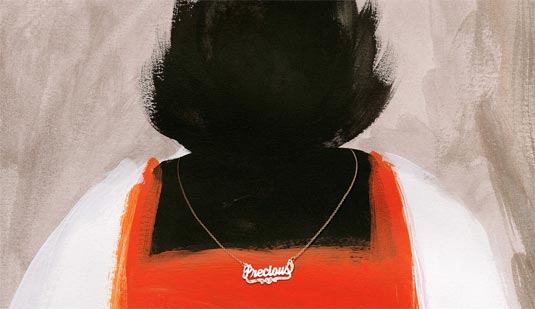 We've got a new poster for
Lionsgate
's Sundance 2009 hit "
Precious: Based on the Novel Push by Sapphire
". Set in Harlem in 1987, it is the story of Claireece "Precious" Jones (
Gabourey Sidibe
), a sixteen-year-old African-American girl born into a life no one would want. She's pregnant for the second time by her absent father; at home, she must wait hand and foot on her mother (
Mo'Nique
), a poisonously angry woman who abuses her emotionally and physically. School is a place of chaos, and Precious has reached the ninth grade with good marks and an awful secret: she can neither read nor write. Precious may sometimes be down, but she is never out. Beneath her impassive expression is a watchful, curious young woman with an inchoate but unshakeable sense that other possibilities exist for her. Threatened with expulsion, Precious is offered the chance to transfer to an alternative school, Each One/Teach One. Precious doesn't know the meaning of "alternative," but her instincts tell her this is the chance she has been waiting for. In the literacy workshop taught by the patient yet firm Ms. Rain (
Paula Patton
), Precious begins a journey that will lead her from darkness, pain and powerlessness to light, love and self-determination.
Precious poster
"Precious: Based on the Novel Push by Sapphire" is directed by
Lee Daniels
, from a screenplay by
Geoffrey Fletcher
based on the novel
Push by Sapphire
. Also starring
Mariah Carey, Sherri Shepherd
and
Lenny Kravitz
This inspiring film will release in theaters on November 6th, 2009.