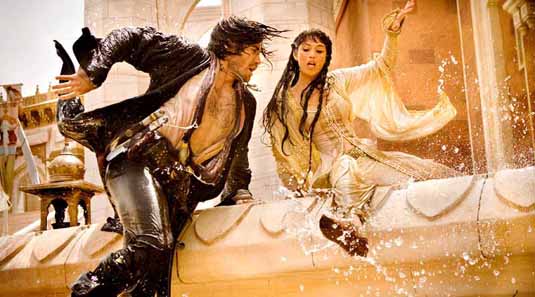 Here's the first official trailer for the upcoming Walt Disney Pictures' movie "
Prince of Persia: The Sands of Time
" which is based on Ubisoft's popular video game. In the film,
Jake Gyllenhaal
will play Dastan, a young Prince who teams with an exotic princess named Tamina (
Gemma Arterton
) on a mission to stop "a villainous nobleman from possessing the Sands of Time, a gift from the gods that can reverse time and allow its possessor to rule the world."
Ben Kingsley
will play the villain Nizam, who plots to kill his brother King Shahrman and blame it on Prince Dastan so he can take the throne. The film is directed by
Mike Newell
(Harry Potter and the Goblet of Fire) and produced by
Jerry Bruckheimer
(G-Force, Pirates of the Caribbean: At World's End, Bad Boys II…)  starring
Jake Gyllenhaal, Ben Kingsley, Gemma Arterton, Toby Kebbell, Alfred Molina, Reece Ritchie, Richard Coyle
and
Steve Toussaint
. The movie is scheduled to hit theatres on May 28th, 2010.
Download Prince of Persia: The Sands of Time trailer:
HD-Quality 1080p [1920 px]
− 213 Мb (QuickTime)
HD-Quality 720p [1280 px]
− 145 Мb (QuickTime)
HD-Quality 480p [852 px]
− 82 Мb (QuickTime)
HD-Quality 720p [1280 px]
− 124 Мb (Windows Media)
If first one not working: