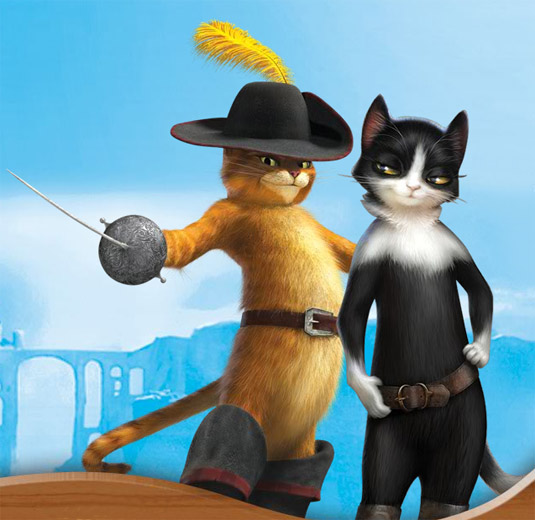 There are some Hollywood projects that you just have to be excited about (no matter how old you are). For example,
Shrek: Forever after
, or, perhaps,
Puss in Boots
? Wait, is that Puss in Boots as "
Antonio Banderas
in Boots"? Anyone interested in this report? Yeah, we thought so, and that's why we're here today to share a first DreamWorks Puss in Boots image with you! Puss in Boots, the upcoming animated feature, is a spin off of the popular Shrek movie franchise that will focus only on Shrek's fat, furry friend, Puss in Boots. A new character named Kitty, the love interest for Antonio Banderas' Shrek character, will be introduced in the film. Check out the the
Puss in Boots official synopsis
: One of the most beloved characters of the Shrek Universe tells the hilarious and courageous (daring, bold, brave) tale of Puss' (Antonio Banderas) early adventures as he teams with mastermind Humpty Dumpty (
Zach Galifianakis
) and the street-savvy Kitty (
Salma Hayek
) to steal the famed Goose that lays the Golden Eggs." See, that's what we're talking about! Cute image and perfect cast! And if you don't trust us, here's what Selma Hayek has to say about it: "This is the fifth film Antonio and I are going to do together. I've been able to hear his voice when I respond. Kitty is amazing. And I'm so excited because my daughter will get to see me in an animated movie. Most of my recordings have all been in Paris, which is also the dream job. I can record anywhere in the world. I'm so excited to do this project. Puss in Boots is the same Shrek character, but it's got its own personality. It's very clever and funny. I thought maybe it would be more like Shrek, but what I loved about it is that it has its own personality and style. It's great!" You can also visit the
Puss in Boots official site
Let's wait and see. The movie is looking at a November 2011 release date.