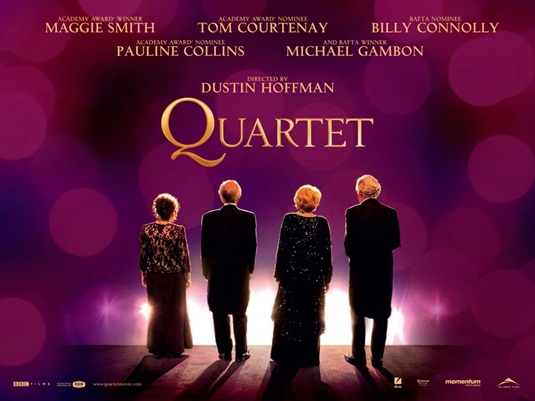 We have a bunch of posters for Quartet, an opera company filled with retired performers reunite once a year to stage a fundraiser for their theater in Dustin Hoffman's directorial sophomore project. Contrary to what we said before, this is not Hoffman's directorial debut as he directed the little seen Straight Time back in 1978. An all star cast of British luminaries including Maggie Smith, Michael Gambon, Pauline Collins, Tom Courtenay and Billy Connolly star with a screenplay by celebrated British playwright Ronald Harwood, based on his play. Quartet, which also stars Sheridan Smith (Hysteria), Luke Newbury (Anna Karenina), Trevor Peacock and Welsh soprano Dame Gwyneth Jones will be released in the US on December 28th, 2012 before going in the UK on January 1st and wider on January 4th. The film debuted at the Toronto International Film Festival in September.
Quartet is about Cecily (Pauline Collins), Reggie (Tom Courtenay) and Wilfred (Billy Connolly), who are in a home for retired opera singers. Every year, on October 10, there is a concert to celebrate Verdi's birthday and they take part. Jean (Maggie Smith), who used to be married to Reggie, arrives at the home and disrupts their equilibrium. She still acts like a diva, but she refuses to sing. Still, the show must go on… and it does.
Check out the posters below.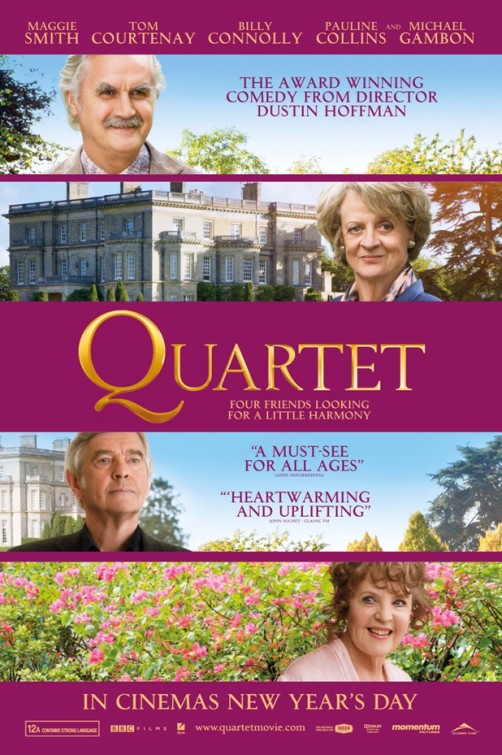 Source: Kinopoisk.ru