Movie News
Quentin Tarantino's Rome Fest Honor Will Be Closed to Media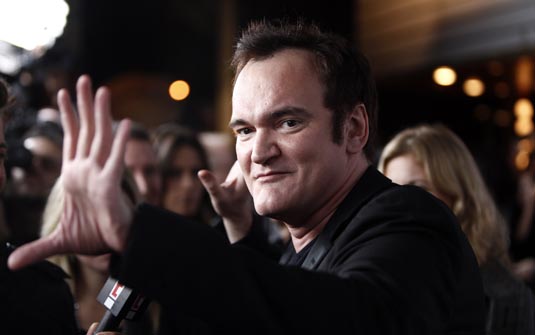 Quentin Tarantino
will attend the International Rome Film Festival on Friday, in order to receive a special lifetime achievement award and to present his latest film,
Django Unchained
, which will screen for the first time outside of North America. During that brief stop in Rome, he will be shielded from the media. The Rome festival and Warner Bros Italia, which is distributing the film in Italy, are tightly controlling Friday's events. There are no press events scheduled, they have completely banned the media from the award ceremony and have limited the screening to a small bunch of domestic media. In addition to Tarantino,
Jamie Foxx
and
Christoph Waltz
will reportedly also be on hand for the premiere, and will be joined by
Franco Nero
, the star of the original Django who is living in Rome, and
Ennio Morricone
, the five-time Oscar-winning composer whose music is closely tied with the Spaghetti Western genre. Morricone will present Tarantino with his award in this 'sealed to the public' ceremony. It is significant, but not a surprise, that the film's first showing outside North America is in Italy: the film was inspired by
Sergio Corbucci
's 1966 made-in-Italy Spaghetti Western-classic Django, and Franco Nero has a cameo role in Tarantino's production. Even more, Tarantino is connected with Marco Mueller, the former Venice Film Festival artistic director, who is now in his first year at the head of the Rome festival, and who also happened to have selected Tarantino as head of the main Venice jury in 2010. Also, Warner Bros-Italia was previously led by Paolo Ferrari, who is now the president of the Rome festival. There had been a great deal of speculation that Django Unchained would be screened at the seventh edition of the Rome festival had it been completed on time, although there has never been any official festival confirmation that it would have been the case. Paris is the next step on the tour. There was no immediate information if the French stop on the Django Unchained 'road trip' will be a media event or if it will be as tightly controlled as the one in Rome. Django Unchained has had a great success since premiering in the U.S. and Canada on Dec. 25th, 2012 – though it is unclear if the film will get a good reception with European audiences. Tarantino is popular in Europe, but westerns haven't had that even receptions in Europe in the past.