Movie News
Release Dates For Pirates of the Carribean 4 and Thor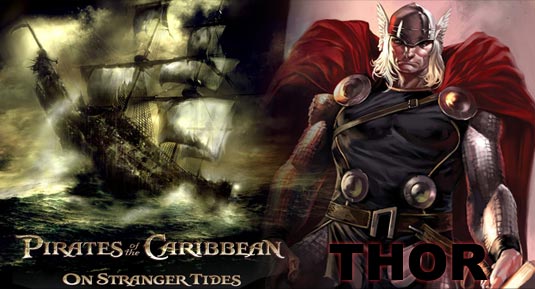 One day after Sony delayed Sam Raimi's Spider-Man 4's production, "Thor" and "Pirates of the Caribbean 4: On Stranger Tides" have adjusted their release dates to take advantage of such valuable box office real estate, Box-Office Mojo reports.
"Thor" has moved in to "Spider-Man 4" May 5th, 2011 slot and fourth installment of "Pirates of the Caribbean" film franchise has moved to Thor's May 20th, 2011 spot.
Here's the rumored Pirates of the Caribbean 4 plot that does combine elements from "On Stranger Tides" novel:
The fourth installment film in the series follows the exploits of Captain Jack Sparrow, who travels to the new world after the death of his puppeteer father to confront his uncle, who apparently has made off with the family inheritance. During the voyage, he gets to know a woman named Beth Hurwood and her father, an Oxford professor. Before they arrive, their ship is waylaid by pirates and, with the help of the professor and his assistant, the captain is killed and Sparrow is forced to join the pirate crew. There is, however, a sinister plot being concocted by the professor involving his dead wife, his living daughter and Blackbeard. Blackbeard and vodun magicians whisk everyone away to dreamlike lands where the Fountain of Youth itself awaits. Jack Sparrow must put a stop to these plans and save Beth Hurwood.
Update: Variety says Sony still wants to release "Spider-Man 4" on May 5 so if the studio gets to keep that date, Paramount would have move "Thor" again but it's gonna be tough getting May 20 back from Jack Sparrow's POTC 4.