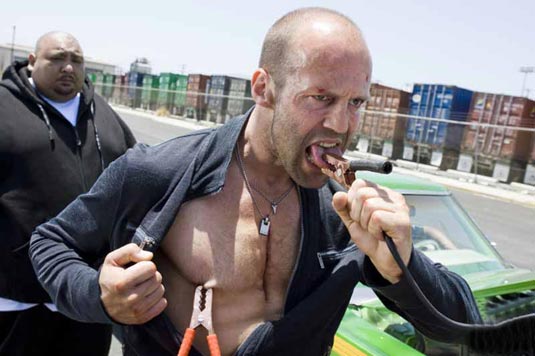 Lionsgate
has debuted this new international restricted trailer for "
Crank 2: High Voltage"
photo, opening in theaters on April 17th. …He was dead, but he got better. After his plummet from a helicopter at the end of the first movie, Chev Chelios (Jason Statham) somehow survives, and now must face a Chinese mobster who has stolen his nearly indestructible heart and replaced it with a battery-powered ticker that requires regular jolts of electricity to keep working. Hey, happens to me every Saturday.
The film is written and directed by
Mark Neveldine
and
Brian Taylor
, the duo behind the 2006 hit film "
Crank
," and the upcoming "
Game
", stars
Jason Statham, Amy Smart, Bai Ling, Corey Haim, Efren Ramirez, Clifton Collins Jr.
and
Dwight Yoakam
.