Movie News
Ridley and Tony Scott and The History Channel Team for American Civil War Docu Gettysburg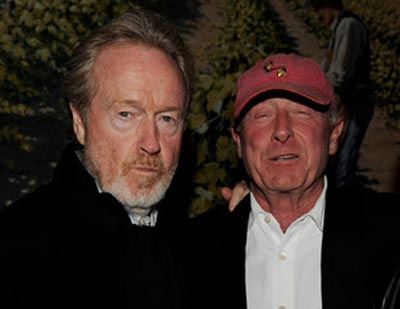 Make a room for one of the most critical events in our nation's history – the
Battle of Gettysburg
! We're here today for something huge, so check this out – for 150th anniversary of America's deadliest war,
Ridley
and
Tony Scott
are teaming up with the
History Channel
to produce film that will be titled
Gettysburg
! "History is the perfect partner for us to tell the epic true story of Gettysburg. We are excited to bring this battle to audiences in a powerful new way." That's exactly what Ridley Scott had to say about this project in an interview with
EW
. The film, as well as series and specials, will launch as a weeklong commitment to commemorate the 150th anniversary of the beginning of the Civil War.
Richard Bedser
will write the documentary, which will be directed by
Adrian Moat
. Two-hour documentary "…will strip away the romanticized veneer of the Civil War and present the engagement in a new light: a visceral, terrifying experience with everything on the line. At its core, this is the story of the soliders on the ground, not the generals who commanded from behind the frontlines. Compelling CGI and powerful action footage place viewers in the midst of the fighting, delivering both an emotional cinematic experience and an information packed look at the turning points, technology, and little known facts of perhaps America's greatest battle." Network president Nancy Dubuc said: "The Civil War is arguably one of the most critical events in our nation's history, and one to which HISTORY has been dedicated since our inception. Our four-year commitment to the Civil War, highlighting the 150th anniversary and the key battles and people who fought during that conflict, underscore our deep devotion to the genre – it is a pledge we are making to our country, to our viewers and to every school in America". Make sure to check out for Civil War week on The History Channel this April!