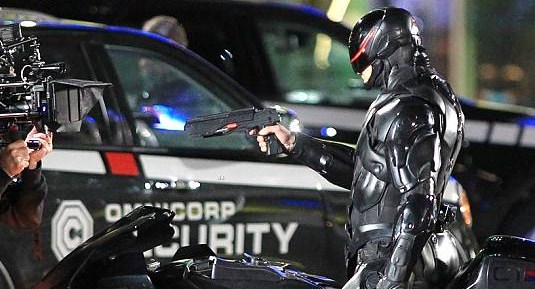 Like it or not, but brand new set photos from Jose Padilha's upcoming RoboCop remake have arrived! Straight from Vancouver Convention Centre come these new images with Joel Kinnaman aka Alex Murphy (aka part man – part machine) who is obviously more than ready to stem the tide of crime and corruption in Detroit. Head inside to take a look & let us know what you think!
We will once again remind you that Kinnaman stars as a critically injured cop who (after OmniCorp utilizes their remarkable science of robotics to save his life) returns to the street with amazing new abilities, but with issues a regular man has never had to face before.
Of course, in Padilha's upcoming remake the year is 2028 so everything is possible. Or, as director previously revealed:
The concept of 'RoboCop' is brilliant, first because it lends itself to a lot of social criticism, but also because it poses a question, 'To when do you lose you humanity?' The way it does that is by replacing body parts with machine parts, and that's very smart because guess what? It's going to happen!
Anyway, let's also add that the rest of RoboCop cast includes Gary Oldman, Michael Keaton, Samuel L. Jackson, Abbie Cornish, Jackie Earle Haley, Michael K. Williams, Jay Baruchel and Marianne Jean-Baptiste, and the movie is set to hit theaters on February 7th, 2014. Click on all these photos to enlarge & stay tuned for more futuristic updates! SEE ALSO: OmniCorp Product Video, Plus New Images