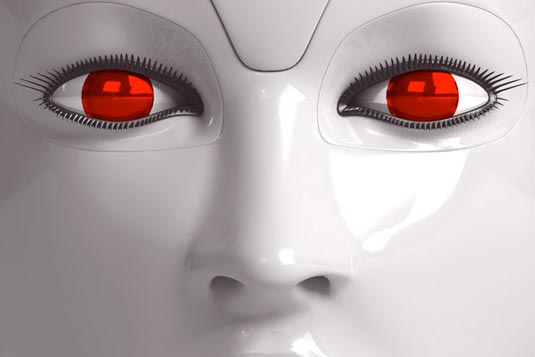 This is a sad day for sci-fi fans, indeed. It appears that
Steven Spielberg
has decided to indefinitely postpone his big-budget sci-fi adaptation of
Robopocalypse
, which was to have starred
Chris Hemsworth
in the lead role (where's my "emergency nooooo" button?!),
Anne Hathaway
and
Ben Whishaw
. Production was set to begin this spring, but apparently Spielberg decided the project wasn't ready yet, and is now going "back to the drawing board to see what is possible." The filmmaker isn't quitting the pic entirely, he just didn't want to rush such an expensive film. Scripted by Drew Goddard (who also wrote 2011's The Cabin in the Woods), the story of Robopocalypse takes place in a future where artificial intelligence known as Archos comes online and assumes control over the global network of machines that regulate everything from transportation to utilities, defense and communication. The film was initially set for release in July of 2013 before being pushed back to April 25, 2014. Spielberg's spokesman stated that the project was
"too important and the script is not ready, and it's too expensive to produce. It's back to the drawing board to see what is possible."
Spielberg will continue to develop the project as he looks for something else to direct in the meantime. His Moses epic Gods and Kings is in direct competition with another Moses film from Ridley Scott called Exodus, and producer Dan Lin recently revealed that Gods and Kings is definitely on the priority list for Warner Bros, so it's possible that Spielberg could be following up Lincoln with this Biblical epic. Or maybe he's having second thoughts about Star Wars? (naaah, I don't think so). This isn't the first time Spielberg has changed his mind on a project, and it's a well-known fact by now that it took him over a decade to finally get Lincoln ready for production, and almost the same amount of time for Schindler's List to get made. I must say, though, I was really looking forward to seeing another sci-fi film from him, soon. Hopefully Robopocalypse comes around sooner rather than later.