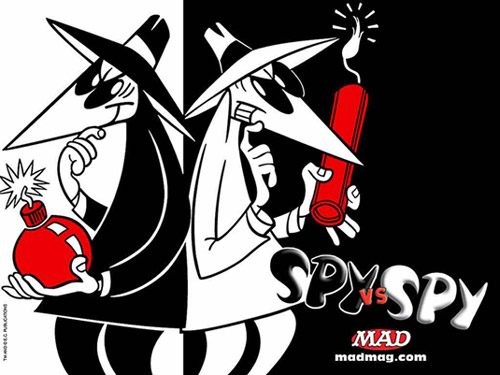 This is definitely Ron Howard week! At least, when it comes to our reports, because every single day we hear something new about Howard's future plans.
It was Rush yesterday, and today we're here to let you know that Howard is also attached to direct live-action project titled Spy vs. Spy, based on the comic strip of the same name that appeared in Mad Magazine and on "MADtv."
Thanks to Deadline we learned that this live-action bigscreen version is moving forward at Warner Bros and that David Koepp will produce with Howard and his Imagine Entertainment partner Brian Grazer.
Koepp will oversee the script that will be written by John Kamps, and at this moment we know that Spy vs. Spy will be a physical and highly visual action comedy with two spies going mano a mano in ruthless fashion.
In addition to that, let us remind you Spy vs. Spy is a black and white comic strip, created by Antonio Prohias, that debuted in Mad magazine #60, dated January 1961, and was originally published by EC Comics.
Here's a little description: "You are about the meet the black Spy and the white Spy – the two MADest spies in the whole world. Their antics are almost as funny as the CIA's…
When it comes to intrigue, these guys make it way outtrigue. They are the only two spies we know who haven't the sense to come in out of the cold. But they have a ball-mainly trying to outwit each other."
Anyone interested in this adaptation? Let us know what you think, and as usual – stay tuned for more updates!