Movie News
RUSH: Behind the Scenes Production Photos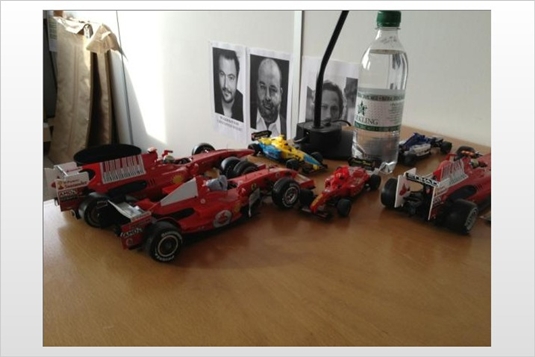 As you probably know, Oscar-winning director
Ron Howard
is making a movie called
Rush
about the 1976 Formula One season and the epic battle between James Hunt and Niki Lauda for the title. On Wednesday, Howard
tweeted
filming for the racing drama was officially underway:
I start experiencing all the sunrises when principle photography begins. Nice one for Rush's 1st day
Rush was already been spotted shooting at the Nurburgring Race Track in Germany back in September, and again in January, but principal photography didn't begin until the week.
Daniel Brühl
is playing Austrian Formula One champion  Lauda, while
Chris Hemsworth
is playing British racing icon  Hunt from a Peter Morgan script.
Olivia Wilde
will star as supermodel Suzy Miller, who was married to Hunt, but fell in love with his close friend Richard Burton. In the end, Hunt and Burton came to an agreement and Burton paid the $1 million divorce settlement for Hunt when he let her go. Burton and Miller eventually got married.
Alexandra Maria Lara
is also attached to star and it's been rumored
Russell Crowe
may play Burton in the film. The film is primarily being shot in the U.K., and though he doesn't unveil exactly where they are filming, Howard has been tweeting several production photos in the past few days as the filming has officially begun. Check them below: