Movie News
Russell Crowe to Reprise Role Brando Took in '78 for Superman Reboot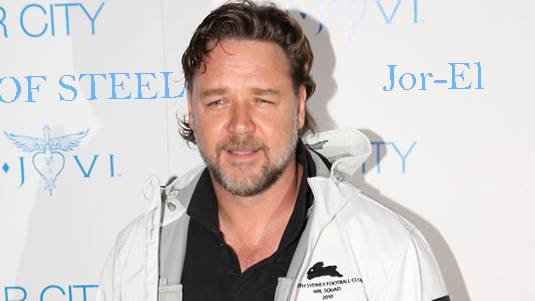 Sorry I'm posting this late. I wanted to check other websites and sources that were related to this news and I finally found the following: Yes, Superman's new daddy is none other than Russell Crowe!
But you probably knew that. You might also know producer Christopher Nolan had all along been seeking an A-lister for Jor-El, Superman's biological father. The question is weather Crowe will make a cameo as Marlon Brando was in 1978's Superman or he may get a significant amount of screen time to fill. I tried and failed to get the correct answer.
The problem is that David Goyer's script for Man of Steel isn't quite straight origin. However, it's a new modern take on the character, but the casting seems to reflect the 1978 movie, full with Zod and both of Superman's Kryptonian parents. On the other hand, Brando got top billing in both the original and second films despite having a relatively minor supporting role in films.
We'll have to wait for official updates but I have come to the conclusion that most important thing is that Crowe must do it with a sense of cosmic responsibility, no matter how small the role is.
Besides, Sean Penn and Clive Owen were both considered but Crowe was the first choice to play Jor-El. Everyone agrees with that choice. In addition, his wife might be played by Connie Nielsen, Crowe's Gladiator co-star.
Zack Snyder is on board to helm with Brit actor Henry Cavill set to play Superman along Amy Adams, Kevin Costner, Diane Lane and Michael Shannon that have already joined the cast.
Man of Steel, which production is scheduled to start next month and while no official movie release date has been set it's expected to be released in December 2012.
Russell Crowe, who last starred in The Next Three Days is currently filming The Man with the Iron Fists, also aiming to make his directorial debut with a crime movie 77 and will also star in the flick.
What do you think of new Superman's parents?
Jor-El Character Info:
Jor-El is a Kryptonian, and the husband of Lara. He was a scientist on the planet Krypton before its destruction. Jor-El foresaw the planet's fate, but was unable to convince his colleagues in time to save their race after his appeals. He was able to save his infant son, Kal-El (Superman), sending him in a homemade rocket ship to Earth just moments before Krypton's demise. After constructing his Fortress of Solitude, Superman honored his deceased biological parents with a statue of Jor-El and Lara holding up a globe of Krypton.
[youtube]http://www.youtube.com/watch?v=HbOR1NJdJfE[/youtube]
Superman The Movie Restoration Scene
Source: Variety