Movie News
Sacha Baron Cohen's Dictator Goes to the Oscars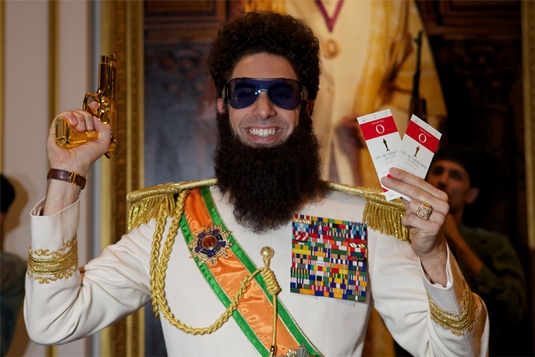 I know that some of you remember when the stars showed up at the Oscars dressed to the nines in formal evening wear and the show was about the movies not who was wearing who. But I am also aware that the others will take Sacha Baron Cohen walking the carpet as a dictator long before they will want a repeat of Sarandon and Robbins using microphone time to promote their 'Haiti' thing. I know that some of you think  Cohen is overrated and that his humor is based on stereotypes and always negative ones. The others are against censorship at the Oscars. No doubt Sacha Baron Cohen attracted much attention, but I'm in doubt could it be a part of a Biblical 'end-of-times' confrontation that had cosmic significance. I'd much rather share the same opinion of some people that this is a nice way to get press without actually doing something. Let's take a brief look at the latest news surrounding  Cohen's latest movie alter ego. After Academy Awards organizers said he would not be welcome at Sunday's show, Admiral Gen. Shabazz Aladeen has been given the go-ahead to attend. Oscars producer Brian Grazer told TV show 'Extra' on Friday that the star of The Dictator would be there in character after all.
We're thrilled to have him and he'll be on the red carpet dressed as The Dictator.
And Cohen reacted to the Oscars reversal by tweeting:
Victory is ours! Today the mighty nation of Wadiya triumphed over the Zionist snakes of Hollywood. Evil and all those who made Satan their protector were vanquished and driven into the Pacific Sea.
The Dictator added:
What I am trying to say here is that the Academy have surrendered and sent over two tickets and a parking pass! Today Oscar, tomorrow Obama!
Additionaly, Cohen posted a video on YouTube as Aladeen. So, you can check it below: [youtube]http://www.youtube.com/watch?v=3AAvRyro6_Y[/youtube]

Admiral General Aladeen – Today Show Appearance