Movie News
Salma Hayek to Produce Kahlil Gibran's The Prophet as Animated Feature?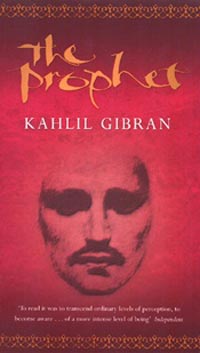 "And think not you can direct the course of love, for love, if it finds you worthy, directs your course."
Well, sorry Kahlil Gibran, but they obviously have plans to direct your The Prophet!
Salma Hayek and her Ventanarosa Productions have teamed up with Clark Peterson and Ron Senkowski to produce an animated feature based on Gibran's beloved book.
According to the latest reports, the intention is for different directors to helm each chapter, with "an interconnecting theme and a musical through-line."
And we have quite interesting team on board, or, should we say that these are just expectations from this project at the moment?
"It is well to give when asked but it is better to give unasked, through understanding."
So, here are filmmakers expected to participate so far: Sylvain Chomet ("The Triplets of Belleville"), Kunio Kato ("Tsumiki no ie"), Oscar-winner Chris Landreth ("Ryan"), Tomm Moore ("The Secret of Kells"), two-time Oscar nominee Darragh O'Connell ("Granny O'Grimm's Sleeping Beauty"), Nina Paley ("Sita Sings the Blues"), Bill Plympton ("Guard Dog"), Marjane Satrapi ("Persepolis"), Oscar nominees Alan Smith and Adam Foulkes ("This Way Up"), John Stevenson ("Kung Fu Panda") and Poland's Michal Socha.
As we said, each one of them is expected to direct segments of the book.
"Too proud indeed am I to receive wages, but not gifts."
What's so interesting about The Prophet? It's one of the best-selling books of all time, having sold over 100 million copies since its original publication in 1923.
Kahlil Gibran, was a Lebanese American artist, poet, and writer and this book is an early example of inspirational fiction including a series of philosophical essays written in poetic English prose.
The Prophet is a book of 26 poetic essays, and it is Gibran's best known work. It follows "the prophet, Al-Mustafa who has lived in the foreign city of Orphalese for 12 years is about to board a ship which will carry him home. He is stopped by a group of people, with whom he discusses many issues of life and the human condition.
The book is divided into chapters dealing with love, marriage, children, giving, eating and drinking, work, joy and sorrow, houses, clothes, buying and selling, crime and punishment, laws, freedom, reason and passion, pain, self-knowledge, teaching, friendship, talking, time, good and evil, prayer, pleasure, beauty, religion, and death."
"And the treasure of your infinite depths would be revealed to your eyes."
In an interview with TheWrap, Clark Peterson, man who produced the Academy Award-winning 2004 Monster explained: "It's going to be done in the style of Fantasia."
1940 Walt Disney classic, Fantasia, had 11 directors, each of whom directed a musical segment. "The Prophet" aims to do something similar.
Music is a vital component in the picture, and Peterson said "there will be world-class musical talents involved."
"With the different directors working on different chapters, the scripting of those individual chapters is largely in their court, so it's not a traditional kind of script." he explained.
"It's really sort of an international celebration of this work. The book is such an international phenomenon that has transcended cultures and languages, we didn't want it to be any one person or any one country's version."
"We've (producers) been in some conversations with some distribution companies, but we're still in the financing phase," he added.
We're definitely interested in this project, so we'll keep an eye on it, as usual. In the meanwhile, we're interested to hear your thoughts about the whole thing! Stay tuned!