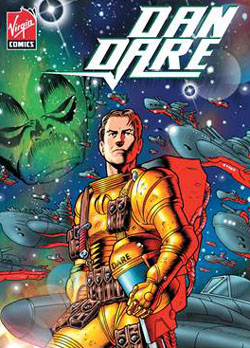 Another official announcement,
Sam Worthington
has been confirmed to star in the upcoming space adventure film
Dan Dare
. On the other hand, still no information about the possible director, or the other cast members. But, one thing is for sure, Wortinghton is a very busy man these days! He's also attached to four other projects:
Avatar 2, Clash of the Titans 2, The Last Days of American Crime
and
Quatermain
. Impressive! Let us remind you that Dan Dare is a legendary comic book character in the UK, often being referred to as the British Buck Rogers or Flash Gordon. This British science fiction hero was created by illustrator Frank Hampson. Hampson not only invented Dan Dare and his entire world, but he also put together the original team of artists and wrote the first two stories. Dan Dare appeared in the Eagle comic story "Dan Dare, Pilot of the Future" in 1950. And if you wonder what's so special about this hero… well, he is excellent at jiu jitsu, although he most often found non-violent solutions to predicaments, and he was bound by a sense of honor, never lied, and would rather die than break his word. With every new detail about
Dan Dare
movie we'll be back. Stay tuned for more updates!