Movie News
Sarah Wright Joined the Raunchy All-night Comedy 21 AND OVER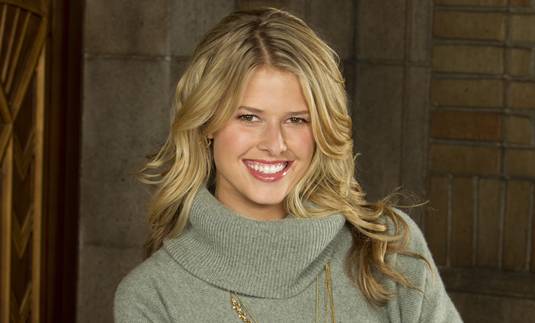 Kentucky native
Sarah Wright
aka Sarah Mason recently appeared in rom-com Made of Honor and started a recurring role in the Mad Love comedy series that premiered as a mid-season replacement in February, but that's not important right now. What I meant to say is that Relativity Media officially announced that thesps
Justin Chon
of The Twilight Saga and
Skylar Astin
from Hamlet 2 will be joined by Sarah Wright to the core trio in the comedy
21 and Over
. Furthermore,
Miles Teller
will follow Footloose remake with Hangover-esque comedy 21 and Over from The Hangover scribes
Jon Lucas
and
Scott Moore
who will helm the film. Teller was cast in the lead role, back in May. The 21 and Over plot follows two youth friends drag their salt-of-the-earth-buddy out to celebrate his twenty-first birthday the night before a medical school interview. But when one cold beer unavoidably leads to another and another, the evening escalates into a wild epic calamity of wickedness and disorder that none of them will ever forget. Production is due to start August 2011 in Washington with a release sometimes in 2012. You can see the official press release from Relativity Media here:
(Beverly Hills, Calif.) July 27, 2011- Justin Chon (The Twilight Saga), Skylar Astin (Taking Woodstock) and Sarah Wright (The House Bunny) have signed on to star alongside the previously announced Miles Teller (Footloose) in the comedy 21 and Over written and to be directed by The Hangover writers Jon Lucas and Scott Moore, it was announced today by Relativity Media's President of Worldwide Production Tucker Tooley. Production is slated to begin August 2011 in Washington with a release in 2012. 21 and Over is produced by Mandeville Films' David Hoberman (The Fighter) and Todd Lieberman (The Fighter), in association with Sir Richard Branson's Virgin Produced. Relativity Media will release the hilarious comedy in which two childhood friends drag their straight-arrow buddy out to celebrate his twenty-first birthday the night before an all-important medical school interview. But when one beer leads to another, the evening spirals into a wild epic misadventure of debauchery and mayhem that none of them will ever forget. Looking ahead, Relativity will release David Ellis' Shark Night 3D on September 2, 2011, followed by Marc Forster's Machine Gun Preacher on September 23, 2011, then the highly-anticipated Immortals on November 11, 2011, starring Henry Cavill, Stephen Dorff, Isabel Lucas, Freida Pinto, Luke Evans and Kellan Lutz with John Hurt and Mickey Rourke. The studio is in production on its Untitled Snow White Project (in theatres March 16, 2012), starring Lily Collins as Snow White, Oscar(r)-winner Julia Roberts as the evil Queen, Armie Hammer as Prince Andrew Alcott, and Nathan Lane as the hapless and bungling servant to the Queen. Relativity's expansive 2012 slate also includes its Haywire (in theatres January 20, 2012), Act of Valor (in theatres February 17, 2012), The Raven (in theatres March 9, 2012), Untitled Farrelly/Wessler Project (in theatres April 13, 2012), House at the End of the Street (in theatres April 20, 2012), Safe Haven (in theatres June 1, 2012) and Hunter Killer (in theatres December 21, 2012). Jon Lucas and Scott Moore are also the writers behind the Jason Bateman and Ryan Reynolds-starring body switch comedy The Change-Up, due on August 5th. Production on 21 and Over, meanwhile, begins in mere weeks for an unspecified release in 2012.