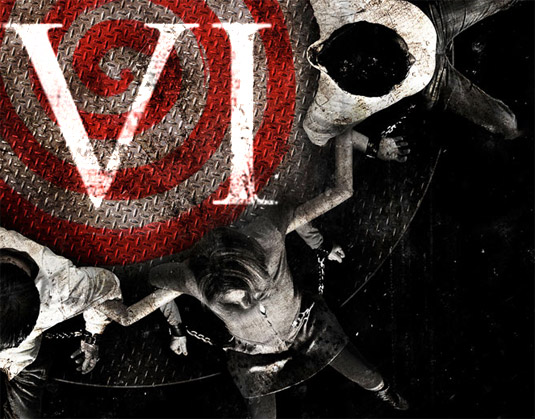 Here's another brand new poster and R-rated clip from the upcoming horror movie "
Saw 6
." The two-minute long clip named "Carousel" has been shown to the visitors of
San Diego Comic Con 2009
who come to the
Lionsgate
booth. In the sixth installment of the horror thriller franchise Special Agent Strahm is dead, and Detective Hoffman has emerged as the unchallenged successor to Jigsaw's legacy. However, when the FBI draws closer to Hoffman, he is forced to set a game into motion, and Jigsaw's grand scheme is finally understood. "Saw 6" was directed by
Kevin Greutert
and writen by 
Patrick Melton.
Starring
Costas Mandylor, Mark Rolston, Betsy Russell, Tobin Bell, Karen Cliche, Tanedra Howard, Shawnee Smith
and hits theaters on October 23, 2009.
Marcus Dunstan
and Patrick Melton – the screenwriters behind not only the upcoming "Saw 6", but "Saw 4" and 5 as well – will return to write "Saw 7". The franchise is supposedly set to continue for a total of nine movies, not eight as Tobin Bell speculated.
Saw 6 poster