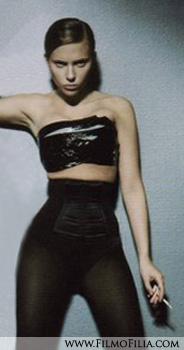 The 23-year-old beauty revealed her hotly-anticipated threesome with Penelope Cruz and Cruz's real-life lover Javier Bardem in Woody Allen's new film 'Vicky Cristina Barcelona' was anything but sexy to shoot.
She said: "There are 60 people right there, eating, like, salami sandwiches! But it was fun, Penelope is so open and funny and cute. I just want to bite her when I see her!"
She really likes the role!
However, this isn't the first time Penelope has pushed sexual boundaries on screen.
In the music video for her brother Eduardo Cruz's song 'Cosas Que Contaro?' Penelope locked lips with a woman who was originally thought to be her sister Monica.