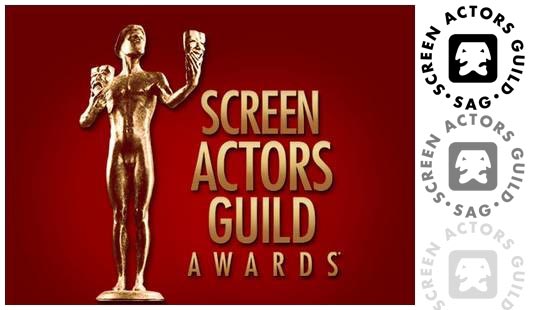 The nominees for the 17th Annual Screen Actors Guild (SAG) Awards for outstanding performances in 2010 in film and television have now been revealed early this morning in Los Angeles by actresses Rosario Dawson and Angie Harmon.
Among the top SAG contenders are cast members of The Fighter – though leading man Mark Wahlberg didn't make the cut, while supporting players Christian Bale, Melissa Leo and Amy Adams did – and The King's Speech, Black Swan and The Kids Are All Right (minus Julianne Moore).
This year's 17th Annual SAG Awards will be shown on January 30th, 2011 at 5 p.m. PST on TNT and TBS.
Here are the motion picture nominations:
Outstanding Performance by a Male Actor in a Supporting Role
Christian Bale, The Fighter
John Hawkes, Winter's Bone
Jeremy Renner, The Town
Mark Ruffalo, The Kids Are Alright
Geoffrey Rush, The King's Speech
Outstanding Performance by a Female Actor in a Supporting Role
Amy Adams, The Fighter
Helena Bonham Carter, The King's Speech
Mila Kunis, Black Swan
Melissa Leo, The Fighter
Hailee Steinfeld, True Grit
Outstanding Performance by a Male Actor in a Lead Role
Jeff Bridges, True Grit
Robert Duvall, Get Low
Jesse Eisenberg, The Social Network
Colin Firth, The King's Speech
James Franco, 127 Hours
Outstanding Performance by a Female Actor in a Lead Role
Anette Bening, The Kids Are Alright
Nicole Kidman, Rabbit Hole
Jennifer Lawrence, Winter's Bone
Natalie Portman, Black Swan
Hilary Swank, Conviction
Outstanding Performance by the Cast of a Motion Picture
Black Swan
The Fighter
The Kids Are Alright
The King's Speech
The Social Network
Outstanding Stunt Ensemble in a Motion Picture
Green Zone
Inception
Robin Hood
17th Annual (2011) Screen Actors Guild Awards (SAG) Nominations Video
[youtube]http://www.youtube.com/watch?v=-GmiMnPdlsA[/youtube]