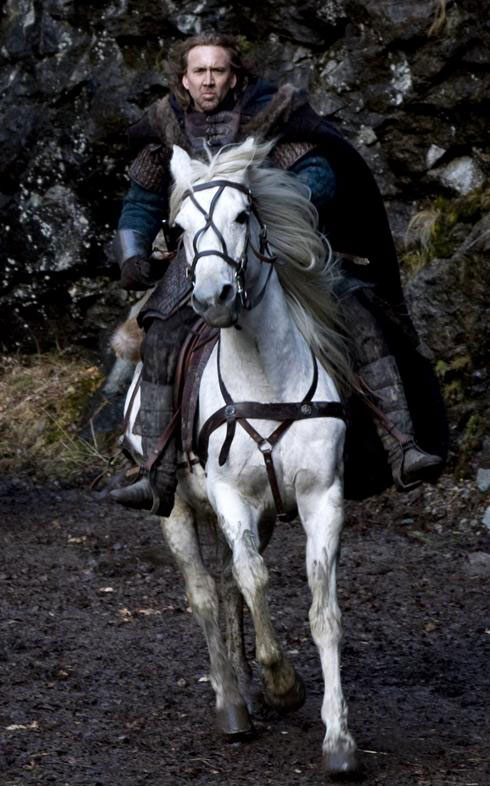 I guess many of you expect that Nicolas Cage will ruin "Season Of The Witch" what could be an awesome film because many of you don't like (hate) him as actor. I'm not with you, especially after seeing these photos from the set and this first official still from Columbia Pictures' "Season Of The Witch" which look pretty good.
You can see Cage in some mediaeval clothing (on the set) riding a horse (official still).
The story revolves around a group of knights in 14th century France who must transport a woman accused of witchcraft to a mountain abbey, where the monks will seek to understand and destroy her powers, believed to be the source of the Black Plague.
Nicolas Cage works again with "Gone in Sixty Seconds" director Dominic Sena for the supernatural thriller "Season of the Witch." Screenplay was written by Bragi F. Schut.
Ron Perlman, Golden Globe-winning and Emmy-nominated actor best known for his portrayal of the title character in the "Hellboy" franchise, stars alongside Cage in the movie.
Cage's character is Behman and Perlman plays the role of Felson.
Additional casting for the film includes Stephen Campbell Moore ("The Bank Job" and the upcoming horror "The Children") as Debelzaq, Robbie Sheehan as Kaylan, Claire Foy as The Girl, and Ulrich Thomsen.
Stephen Graham (role of bank robber Baby Face Nelson in Michael Mann's "Public Enemies") plays a swindler and navigator, in 14th-century saga about 14th-century knights transporting a suspected witch.
"Season of the Witch" began shooting in early November in Austria and Hungary and it should be arriving at a theater sometime in 2010.