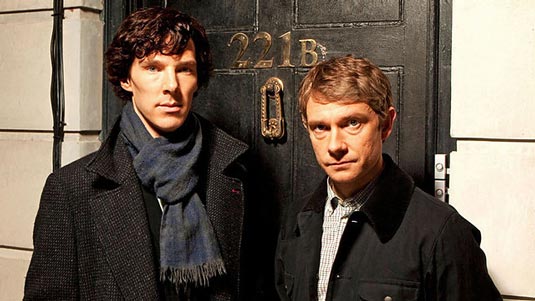 It appears that Sherlock fans will have to wait a bit longer to get some satisfaction after that season two dastardly finale cliffhanger.
Season three of this great BBC series had been already postponed to start production coming January for a fall 2013 debut, but EW now reports that the start date has now been pushed back further to March, in order to accommodate the busy schedules of stars Benedict Cumberbatch and Martin Freeman.
Cumberbatch is about to shoot director Bill Condon's untitled WikiLeaks project and Freeman is likely needed for some additional Hobbit filming now that Peter Jackson has expanded the adaptation to three films instead of two, so the move makes sense, in spite of being the thorn in fans' eye.
Yup, the longer wait for more Sherlock isn't exactly fun, as with any other thing one likes, but creators Steven Moffat and Mark Gatiss previously teased three key words for the upcoming season, so at least we know the waiting should be worth it. The BBC will air season three first, with PBS noting that the third season will run here in the U.S. in late 2013 or early 2014.