Movie News
Sigourney Weaver – Alien (again) in 'Wall – E'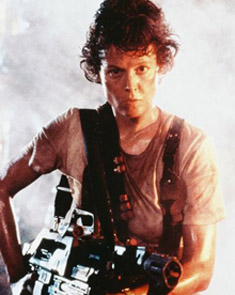 Disney/Pixar showed some new footage from their upcoming movie "Wall-E" during the New York Comic-Con.
Some of the footage also introduced a new character, M-O, which is an anal-retentive cleaning droid. In the clip, Wall – E, a cube-shaped robot, sneaks aboard the Axiom, one of the luxury liners that has transported the human race off the planet Earth. Wall – E takes offense at M-O's attempts to clean him.
The news is that Sigourney Weaver has a role in "Wall-E". Weaver will voice a character, the computer of the starship Axiom.
"We kind of geeked out at the thought of having a little wink to Alien, instead of fighting Mother, Sigourney has become Mother," said producer Jim Morris.
Other voices in Wall – E: John Ratzenberger, Fred Willard, Kathy Najimy, Paul Eiding, Ben Burtt, Kim Kopf, Garrett Palmer