Movie News
SIN CITY 2 to be Released in October 2013, Mickey Rourke & Jessica Alba Returning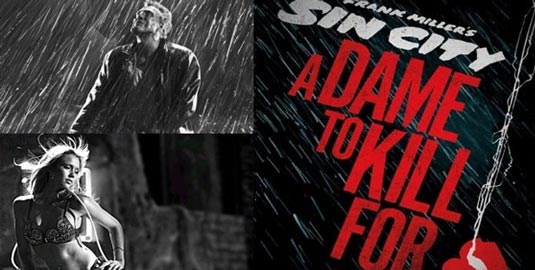 Yaay! We have a bit of updates for the recent article on this movie, check it out!
The sequel to the 2005's Sin City that we have awaited for too long finally gets a release date: October 4th, 2013. Titled Sin City: A Dame to Kill For, it will have both Jessica Alba and Mickey Rourke returning for their roles of Marn and Nancy Callahan, respectively.
Robert Rodriguez directed the 2005 film, adapting three story arcs from Frank Miller's graphic novel series, while Miller himself was included in writing and directing. The film was all A-listers, like Bruce Willis, Clive Owen, Elijah Wood, Rosario Dawson, Michael Madsen and Josh Hartnet, intertwining The Hard Goodbye, The Big Fat Kill and That Yellow Bastard arcs into one.
Of course, the film was more than well received, both critically and commercially, so I'm still wondering why it took him so long to produce the sequel.
In his interview to Empire, Rodriguez revealed that the sequel will be even more stylised than the first movie, in desire to translate Miller's work to the screen more closely:
"I really held back the first time, because I didn't know whether audiences would go for it.  So it ended up looking like a real movie, but in black and white, with a few flourishes.  This one is going to push way further towards the books.  It's going to shock and surprise people."
Rodriguez and Miller have since talked about adapting A Dame to Kill For, involving both Rourke and Owen's characters, but there is still no Owen's confirmation as to whether he will return for the role of Dwight. The role of Ava, the titular Dame, has so far been linked to Rose McGowan, Rachel Weisz, Salma Hayek and Angelina Jolie. As Rodriguez said, "It's a great part for any actress.  She's completely diabolical with no mercy. She's as evil as evil gets."
So far, no further cast members have been announced, though at some point Johnny Depp was in talks for the role of Wallace, a short-order cook/war hero, which would have meant adapting Hell and Back storyline into the film, but whether that is true still remains to be seen.
The film will be produced by Rodriguez's Troublemaker Studios, and distributed by Dimension films. Miller and Rodriguez wrote the script, which was rewritten by the Oscar-winning William Monahan (The Departed).
But I must warn you, dear readers, although this does seem like an actual step forward (finally!) into returning to the 'SinCity-verse', with even the release date announced, don't take your hopes too high up. Film has been through enough trouble so far to suggest that waiting for it might be worthwhile, but with Rodriguez currently working on the Machette follow-up, and Miller being involved in the Sin City knock-off The Spirit, it might be smarter not to be too excited until we receive more news. Stay tuned!