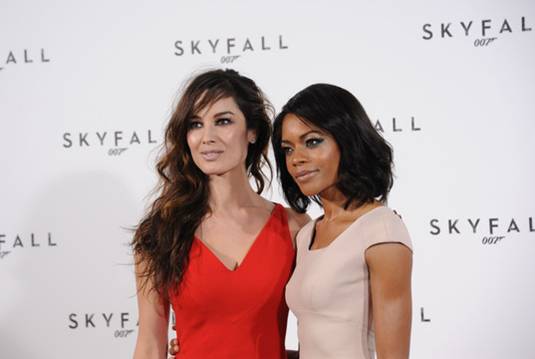 Well, MGM has put out two video blogs via MSN UK and Vimeo to detail the new Bond girls. First up featurette introducing
Berenice Marlohe
, a French beauty that does a lot of commercial and TV work. She's the sexy and glamorous Bond girl named Sévérine. Marlohe lets it slip that her character has a bit of a dark side too, but she's definitely the type of girl that Bond falls for. [youtube]http://www.youtube.com/watch?v=kww4WGVJnTs[/youtube] The second important acting addition to the Bond series is
Naomie Harris
, who plays Field Agent Eve. Harris' character is a tough and gritty field agent who believes she's an equal to Bond, even though she isn't. In Harris' featurette you get to see her handle a gun and shoot stuff, kind of Gemma Arterton's Bond girl from Quantum of Solace, except much tougher. [youtube]http://www.youtube.com/watch?v=rsDpl_5gDm8[/youtube] As you know,  
Skyfall
  also stars
Daniel Craig, Judi Dench, Javier Bardem, Ben Whishaw, Helen McCroy, Albert Finney
, and
Ralph Fiennes
.
Sam Mendes
' involvement lends an air of prestige to the project, but his inexperience as an action director has left some fans concerned. James Bond 23 – Skyfall is slated for release on November 9th, 2012.