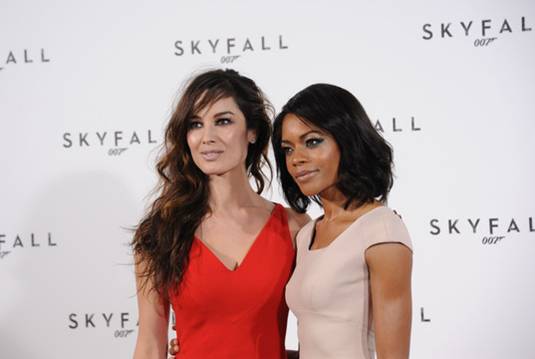 Well, MGM has put out two video blogs via MSN UK and Vimeo to detail the new Bond girls.
First up featurette introducing Berenice Marlohe, a French beauty that does a lot of commercial and TV work. She's the sexy and glamorous Bond girl named Sévérine. Marlohe lets it slip that her character has a bit of a dark side too, but she's definitely the type of girl that Bond falls for.
[youtube]http://www.youtube.com/watch?v=kww4WGVJnTs[/youtube]
The second important acting addition to the Bond series is Naomie Harris, who plays Field Agent Eve. Harris' character is a tough and gritty field agent who believes she's an equal to Bond, even though she isn't. In Harris' featurette you get to see her handle a gun and shoot stuff, kind of Gemma Arterton's Bond girl from Quantum of Solace, except much tougher.
[youtube]http://www.youtube.com/watch?v=rsDpl_5gDm8[/youtube]
As you know,  Skyfall  also stars Daniel Craig, Judi Dench, Javier Bardem, Ben Whishaw, Helen McCroy, Albert Finney, and Ralph Fiennes. Sam Mendes' involvement lends an air of prestige to the project, but his inexperience as an action director has left some fans concerned.
James Bond 23 – Skyfall is slated for release on November 9th, 2012.