Movie Photos
SKYFALL Set Photos Featuring Daniel Craig as James Bond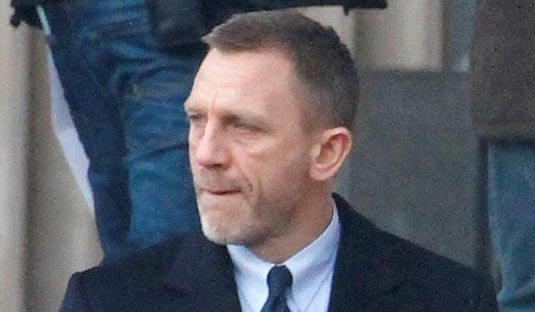 I don't know about you guys but I really miss Daniel Craig as James Bond. You remember that great Casino Royale a long time ago? Ok, you don't have to remind me of its sequel gloriously titled Quantum of Solace – I try to forget it! Now, we have Sam Mendes as director of Skyfall and let's hope we'll see some good action and story as well.
"It, I think, has all the elements of a classic Bond movie, including, to quell any rumours, a lot of action," Mendes promised. The cast and crew were at London, England's Trafalgar Square over the weekend so today we have these photo of Craig as James Bond to share with you. Photos reveal pretty much nothing but we can see that handsome classy guy in hurry…
Here's also a brief Skyfall plot: Bond's loyalty to M is tested as her past comes back to haunt her. As MI6 comes under attack, 007 must track down and destroy the threat, no matter how personal the cost. Skyfall also stars Ralph Fiennes, Javier Bardem as the villain, Naomie Harris, Judi Dench reprising her role as M, Berenice Marlohe as Severine – the Bond Girl, Simon Russell Beale, Rhys Ifans and Helen McCrory. It will open theaters on November 9th, 2012.